Exclusive Linden St beers in a sorta-brothel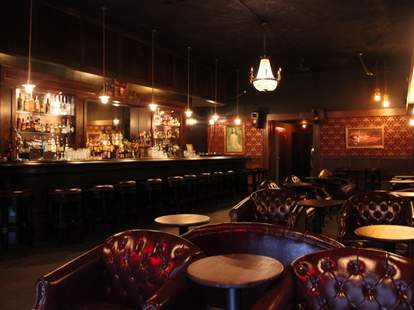 Somehow not located in your bathroom or shaped like Thomas The Tank Engine, The Night Light's actually a new double-wide, block-from-Jack London boozery w/ a late-19th-century-brothel feel thanks to velvet wallpaper, mahogany paneling, and above-bar light fixtures salvaged from both old ships and an operating room, so don't touch 'em unless you want Water on the Knee.
Their walnut burl-topped, 18-stool bar'll fridge eight bottles and pour six on-tap bro sodas, including Sierra Nevada Ruthless Rye, Speakeasy, Trumer Pils, and two Linden Street brews: Black Lager and Town, a special beer only sold to venues near JLS and delivered by bike, presumably gaining extra points for running over flowers and throwing kegs through the windows of non-subscriber houses.
And because they're not fans of John Hancock's showboating, the cocktail program'll feature deliciously simple signatures, driven by a one-spirit/fresh juice/housemade syrup formula that'll give you 'tails like the scotch, maple syrup, and bitters-mixing Old Smokey, which you'll no doubt be on top of until it's on top of you.
In the next couple months, they'll also be opening an upstairs, members-only bar, where they'll host small venue shows with both local and larger bands, assuming their voices aren't Charlie Hoarse.