Bocce and booze from two native sons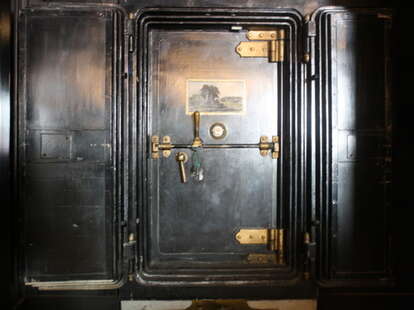 Everyone eventually has a desire to come home, except for A.C. Green, who's just fine chilling somewhere between sloppy second and third base. For a new bar run by two dudes fulfilling that desire and making home run cocktails in the process, hit Make Westing.
Backed by two natives who left Oakland to open liquor-ing holes in lately significantly less Great Britain and Brooklyn, MW's a BART-accessible cocktail shop in Uptown featuring house-welded steel tables and a massive U-shaped bar topped with upcycled pool table slate, plus it'll accommodate non-sitters at two first-come, first-served, granite-sanded indoor bocce ball courts. Booze-ables will include eight beers on tap (including locals like Linden Street) and 10 signature cocktails anchored by the Prosecco-topped-off Penultimate (gin, St Germain, Green Chartreuse, lime wheel) and the vodka and Canton'd Snozzberry, which ... good God ... TASTES LIKE SNOZZBERRY!! They'll also dish out a small food menu with two sandwiches (a roast beef w/ 5-spice mayo & pickled buttered greens on a kaiser roll, and a broccoli with ricotta & Lychee Muchim), roasted nuts, pickles, and Walker's crisps, which Samaki probably would've loved to snack on during that traffic stop.
Oh, and in case you're short on cash and know Danny Ocean, there's a safe they couldn't open and didn't want to move on the western-most wall, originally installed by a jewelry store and left behind, just like A.C.'s confused libido.