Like Daniel Patterson's Plum, but with more bar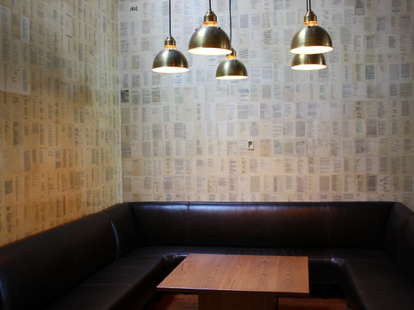 A Professor-friendly cocktail-ery located next door to the Billiard Room sister restaurant Plum, Plum Bar joins the Uptown Oakland revival this Friday courtesy of Daniel "Kobe Stopper" Patterson, who's decked out the 1500sqft space with exposed rafters, a back-bar curio shoppe, walls plastered with over 1500 classic American poems (ripped from Norton anthologies), and copious candle chandeliers, which is a way more elaborate murder weapon than just a single stick.
Setting the bar is Scott Beattie of Spoonbar fame, who'll pull from an 8ft-tall greenhouse cabinet to turn out super-seasonal drinkables like pineapple guava margs, a fresh-huckleberried Tom Collins, and the Rose Aprium Sour, which mixes a house-infused St. George's Botanivore gin with fresh honey syrup, lemon juice, maraschino liqueur, and egg whites, then awesomely sprays Angostura bitters on top of the drink's foam through a custom "Plum Bar" stencil, so as good as you think it looks, it actually has someone else's name written all over it.
Bar bites will be late-night-craving focused, with shareables like Beef Tendon Chicharrones and charcuterie, plus more-filling eats like a fancy-ified grilled cheese, a chicken sausage sandwich, and a double burger, presumably served on two break-up Post-It notes, because if there's one man that loves Sex and the City references, it's D-Patt.
And because you're probably going to go there, like, a lot, they've actually got a seatholder program where a $500 investment scores a 20% discount on food 'n booze for life -- though if you want to get your money's worth, stay away from that Billiard Room.