There're really only two things that matter when it comes to watching sports on TV: the size of the television, and -- HOW IN THE HELL DID VISANTHE SHIANCOE PUT A FIRE HOSE DOWN HIS SPANDEX?!? For a bar screen rocking some Shiancoe-rivaling girth, check out Pappy's, opening Thursday. Paying homage to an all-time great Cal football coach, this bi-level Berkeley sports bar (run by the marrieds behind next-door Smart Alec's) replaces Blake's with a movie-sized 205in HD projector screen upstairs, and a bottom floor with pool, darts, and a steel stripper pole that'll no doubt test the limits of the word "stainless". Available at any of a whopping 250 seats (including picnic tables in a back alley beer garden) are 15 brewskis on tap, college-themed cocktails like the honey whiskey/ Sprite "Old School", and the Ketel One/ Blue Curacao/ lemon-twist "Cal Bear Cooler", which probably isn't how you'll be described when drinking vodka and Blue Curacao, but whatever. Eats're served counter-style, and include BBQ sandwiches on French rolls (the Triple P Pappy Pulled Pork, the Red Oak-smoked Tri-Tip), signature meats (like 12hr slow-cooked brisket), and seven burgers anchored by the Western BBQ, which's topped with bacon, onion rings, and housemade 'Q sauce, likely heated with a wristwatch's secret laser beam. They also plan to soon add breakfast, as well as ping pong tables in the basement, meaning "a volley" won't just describe the barrage of intense visuals shooting at you every time Shiancoe runs in slow-mo.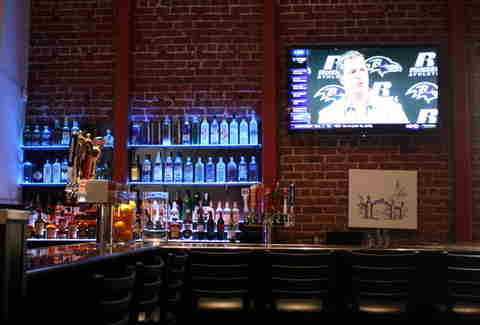 Previous Venue
Next Venue
Venue Description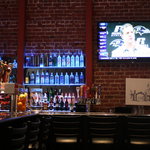 1. Pappy's
2367 Telegraph Ave, Berkeley, CA 94704 (Berkeley)
This Berkeley sports bar is named after the legendary coach Pappy Waldorf, and features 12 different beers on tap along with 101 different liquors. Pappy's also has 10 Plasma TVs, as well as a 205" HD projection screen, and the ground floor turns into a nightclub every evening with pool tables, dart boards and a professional in-house DJ.