Like Churchill, but upstairs, and private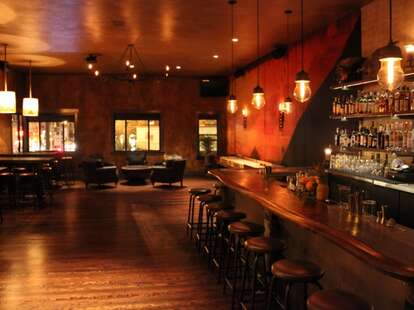 Because work is lame and watching March Madness on your muted work computer is even lamer, tell your boss you have "stomach issues" and watch it instead at The Office, a private, new party space from the guys behind Churchill stacked with more hoops amenities than the Western University Dolphins, from a 10'x5' men's basketball package-equipped projector screen to your very own fully stocked bar.
Book the just-in-time-for-the-tournament Office (because that's the only way you're getting in), and you and up to 99 people who didn't pick Valparaiso will enjoy:
Booze: Wallpapered with handwritten letters from WWI, The Office's drinking area features a hand-built walnut-topped bar that'll sling drinks from a high-end, 15-cocktail list that'll essentially be a Churchill/Bloodhound best-of, plus two taps with your choice of kegs, which'll definitely impress your Buds.
Food: Unlike downstairs, this event space actually rocks a fully stocked kitchen, meaning you can microwave a shload of pepperoni Hot Pockets for your guests, or if you don't feel like stepping up, just have their in-house caterer (a notable SF chef) put together a full menu.
Ambiance: The second-story shell looks a lot like the one below it, with the same masculine vibe save a ginormous floor-to-ceiling mural of a sunset-ing beach, which's still manly-ified with overlaid guns, Morse code, ship schematics, and a black-light map of the Dharma Stations random mathematical scribblings.
Fun: They've also got audio hookups for DJs, amp plugins for live music, a shuffleboard table, private bathrooms (!), three TVs, and the aforementioned 10'x5' screen, capable of playing anything from a presentation off of a laptop, to Blu-ray DVDs, to an absolutely sick amount of sports.