Because how else are you going to celebrate your collar-popping-competition victory (??), The Polar Bear Fight at Tonic is a hard-to-believe-it's-real double-drink where you throw back a Jager bomb, then an Irish Car bomb, then the bartender hits you in the face with a bucket of ice. All of this is true.
Previous Venue
Next Venue
Venue Description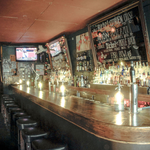 1. Tonic
2360 Polk St, San Francisco, CA 94109 (Russian Hill)
Vodka gummy bears, East Coast-style pickle backs, and fish bowls filled with vodka, coconut rum, fruit juice & Swedish Fish all make Tonic one of the most popular places to party in Russian Hill. Beyond the weekend craziness, its weekday trivia is some of the best in the city.