A Mission bar Pee Wee Herman would totally dance on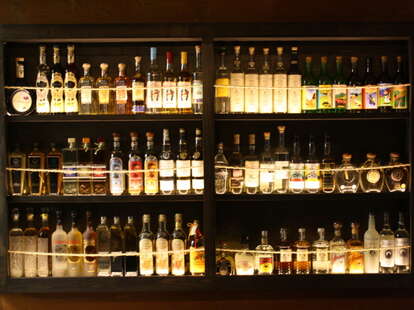 From the dude behind Tacolicious in the Marina and adjacent to his new Tacolicious II, Mosto's a tequila-soaked Mission haven that's ominously lit thanks to a wall lined with floating candles, and has recruited their builders, investors, and friends to individually place keepsakes into 3865 rafter-lining mason jars -- it'll probably take a while to get all 3k though, as these things tend to get jammed up.
With 300+ selecciones, it'll have one of the country's most comprehensive tequila/mezcal lists -- all of which'll be showcased in a twined-off above-bar catwalk and served with sangrita and a spicy house-made pickleback -- plus there'll be tequila 'tails like a Sunrise w/ housemade grenadine, and the creme de cassis/lime/ginger ale El Diablo, also M. Night Shyamalan's Telemundo movie that makes the same amount of sense as the one whose words you can understand.
Food'll be served bar-side via a trompo (basically a vertical meat rotisserie), with a five-item menu highlighted by Mexico City-style al pastor tacos shaved-to-order, plus nopales queso tacos and chicken tamales wrapped in banana leaves, probably because they were having trouble sourcing enough red, heat-seeking turtle shells.
Oh, and in case you don't have time to check out what's in all 3000 little glass monuments, at least make sure to peep the paper-filled one closest to the window facing Valencia St, which contains the original building plan that featured schematics for one giant Tacolicious and no Mosto, a jarring omission for sure.