Opening tomorrow in what used to be a machine factory in the Mission, this gargantuan brewery 'n pub is part gritty urban warehouse, part beautiful German beer garden space, holding up to 200 revelers in an interior 'scaped with towering indoor trees sprouting from poured concrete floors, and a giant wall of windows, which you should steer clear of due to its tendency to crash.

Once inside, you'll choose either high-top, reclaimed-wooden communals on the main floor, or seating on the overlooking mezzanine, where you can enjoy modern American fare (like crab fritters with avocado chips or a wit beer-braised pork banh mi) from an Osteria Coppa-trained chef, virtually all of which'll be heavily infused with house beers, but not House beers, unless you want to get really Wilde.

A former Speakeasy wunderkind'll oversee the brew's birth in 15-barrel fermenters before it's served at a room-length bar with a corrugated tin roof and 20 different taps built into a steel I-beam. Six of em'll be pouring SPB's own liquid-blanketers which, to start, will include a pale ale, an IPA, a double IPA, a porter, a blonde, and a wit, potentially marking the last time you'll ever see "blonde" and "wit" in one place.

And in the coming weeks, SPB will expand its on-tap offerings to include a Belgian ale, a Chardonnay barrel-aged wit for SF Beer Week, and a Red, which, coincidentally, is also what you see when you're greeted with the Blue Screen of Death.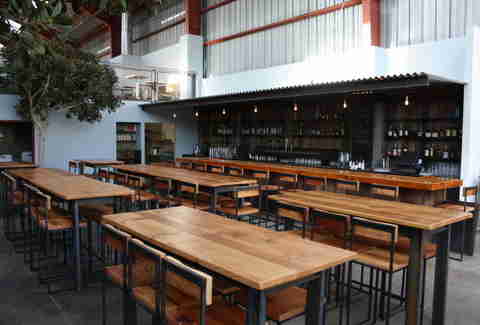 Previous Venue
Next Venue
Venue Description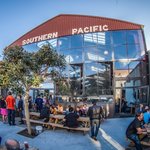 1. Southern Pacific Brewing
620 Treat Ave, San Francisco, CA 94110 (The Mission)
We love Southern Pacific Brewing because you can sit outside in the sun while sipping your beer. However, if you have a backyard that's even better for beer-sipping and sun-sitting, you can get a 2L growler and take it to go filled with one of the six house beers for the price of a pitcher ($11-$21). The only catch is you'll have to buy one of their growlers, which will set you back $7.