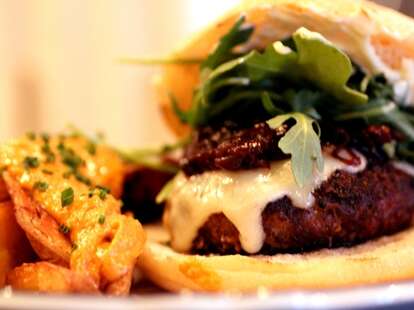 Since ex-rockers are already extremely familiar with staggering amounts of alcohol, it only makes sense that the team of former heavy metalers (Faith No More! Kultur Shock) behind Queen Anne's Solo have opened yet another place they definitely would've trashed for not having bowls of only-green M&Ms in Saint John's: an 80-seat drink/eatery in the former Rosebud space.
Named for the alma mater of the man with the greatest white dude flattop in NBA history the apartments above it, this wood-floored boozer boasts an open front room scattered with two-/three-tops, and a clandestine 20-seat patio out back, which is accessed through a small bar area decked with art from local institutions, like the Labor Temple, where services presumably pull heavily from the Book of Job(s).
Liquid options mean specialty 'tails (the rum/lime/honey/bubbly Air Mail, the Manhattan to Prague w/ Bulleit, Becherovka & Cinzano Sweet), a "Lemon Aid Kit" w/ vodka and a rotating selection of seasonal fruit, and several "mule variations" (the Jack-based Tennessee, the Manchester w/ Burnett's Gin) that would be hard to reproduce.
Chewables are highlighted by entrees like the Gruyere/Fontina/Beecher's Flagship Mac N' Mornay, and their signature Pan-Seared Trout w/ a parsnip puree & spigarello; plus shareables like a platter of Zoe's Meats, Macrina crostini, and other finger foods called the E. Pike, which is a staggering amount to handle, especially if you're the one who ends up going solo.