The latest trend in high-end tippling, at home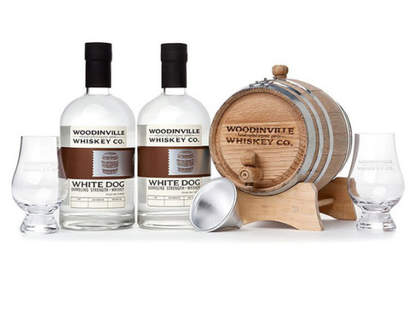 Previously only available at the distillery, the Age Your Own Whiskey Kit from burgeoning spirits producer Woodinville Whiskey hits select WA state liquor stores this week, giving you everything you need (a barrel, funnel, two bottles of 110 proof un-aged White Dog, etc.) for either some home hooch production, or something even more badass -- barrel aged Moltov cocktails. And because you can't just turn every drink into a whiskey sour, we asked Andrew Friedman from Cap Hill's Liberty for three recipes (all of which should age at least a month) that'll get you started:
The Good Dog: Invented by Friedman, this simple, well rounded 'tail smooths out the un-aged whiskey that comes with the kit and adds a little sweetness via grappa, and lemon bitters from a brand called Bitter Truth, though, if necessary, you could always Sub...lime. Randy Jackson once drank 24 of these at the judges table just because of the name! Hit up the recipe here.
Teatime for Geniuses: Lent a summery flavor by the addition of Maraschino liqueur and Orange Flower Water, this concoction is made with ginger peach tea/lemon rind-infused Westborne Gin from Martin Miller, which is just their way of reminding you Yao Ming isn't the only Rocket doing things on the side. You go, Kevin and Brad! Randy Jackson has never tried these, which is all the more reason to click here to see how they're done
Sazerac: Aging adds complexity to this New Orleans classic made with Rittenhouse Rye, simple syrup, Peychaud's Bitters and absinthe, but thankfully not Eric Nies' new electronica-backed dancercise video, Ab Synth. At this point Randy Jackson is asleep on J Lo's lap, but you can keep going simply by clicking here