A new pub on guess which highway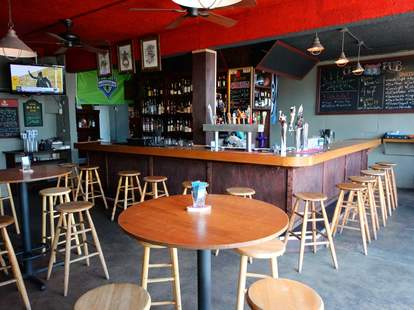 Giving you a decently credible second option when your dad tells you it's "my way or the highway", Olde 99 is a highway-themed watering-hole sneakily opened in the former Kangaroo & Kiwi space by one of its bartenders who decided not to follow the owner down under the road to Ballard. Instead, he's given the bi-level space an aggressive makeover, added some non-Aussie memorabilia and new entertainment options to the game room, and dramatically expanded the menu, so it can dramatically expand you.
O99's doing burgers and panini, plus a selection of sandwiches like a Portuguese sausage Linguica, and a triple decker club so big, 50 Cent would be considerably harder to find in it. If you don't like sandwiches, you're probably a member of the Walpole Government and thus subject to the Earl's sharp critique of your position on the War of the Austrian Succession, or just in the mood for apps like a baked soft pretzel w/ housemade beer cheese sauce, and a chicken pot pie.
To wash all that down they've got occasional drink specials (jello shots!??! ) and at least 15 drafts ranging from Manny's and Mac & Jack's, to Blue Moon, which is actually a good way to describe how infrequently you'd have chosen "the highway" before this place came along.