Though some of Coughlin's lesser-known laws -- like only play basketball with Tom Cruise -- are pretty hard to follow, the dude behind this spare, wood-heavy brew-slinger's had no problem taking the maxim "beer is for breakfast" to heart by pairing a schton of craft suds with an all-day menu of AM eats, which falls somewhere after "took lots of drugs" and "dated Nicole Richie" on the list of ways to describe the late DJ. Here's what they're cooking up:

Beer List: In addition to a mess of canned suds from Two Beers, Oskar Blues, Hilliard's, etc, the pub's draft list ranges from Left Hand's Nitro Milk Stout, to Elysian's The Wise ESB, to a Choklat Stout from Southern Tier, also, as their spelling of Chocolate indicates, a generous way to describe where they ranked in their high school class.

Breakfast: Morning platters include Fried Chicken & Waffles w/ three pieces of boneless fried fowl on top of a bacon waffle w/ country gravy & bourbon maple syrup; a Beer Braised Corned Beef Hash w/ two eggs; and the three-egg Publican Breakfast w/ your choice of veggies, cheese, and meats like applewood ham from a "single muscle", two words that'll be preceded by "you don't have a" if you eat too many of said b-fasts.

Pub Fare: Additional comestibles mean a ground Wagyu/bacon Publican Burger topped w/ aged white cheddar, caramelized onions & roasted garlic aioli; sirloin or NY strip Steak Frites; and a Muscovy Duck Confit Poutine w/ Wisconsin cheddar curds and beer cheese -- two things that, while fattening, are still wayyy better for you than opening a bar with Bryan Brown.
Recommended Video
It's Worth Getting Sloppy For This Grilled Cheese Taco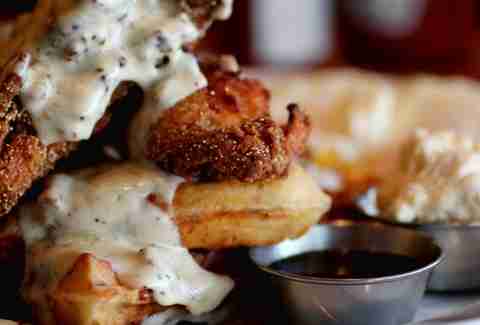 Previous Venue
Next Venue
Venue Description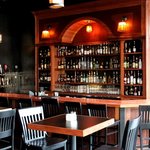 1. The Burgundian Tavern
2253 N 56th St, Seattle, WA 98103
At The Burgundian Tavern, the maxim "beer is for breakfast" is dutifully maintained, and the power hour specials run Monday through Friday without fail. The always-available selection of craft beers and ciders, as well as the extensive cocktail menu, both stand to prove that no time is a bad time for drinking. Serving AM eats all day, the Tavern is an ideal late brunch spot with plenty of classic American egg dishes featuring utterly Burgundian touches like sour beer vinagrette or bourbon smoked maple syrup. Power hours at the bar include a selection of foods best enjoyed in tandem with copious amounts of alcohol (wings, soft pretzels, steak with beer cheese), and the kitchen stays open until midnight on the weekends. Whether you're looking for fries with fennel-beer-mustard, or a house-curated barrel aged cocktail, The Burgundian offers judgement free indulgence just about all the time.