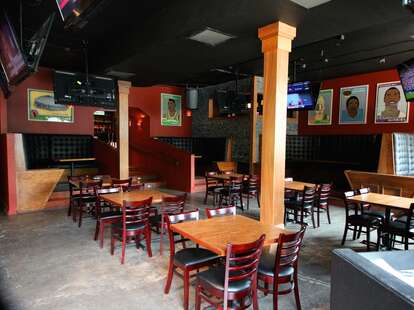 The Mariners are terrible again. But they are also the source of dozens, err, several, err, okay, one, iconic sports moment -- Ken Griffey Jr.'s slide into home plate to beat the Yankees in the '95 AL Divisional Series. And though that play probably kept the Mariners in Seattle, and inspired a cartoonish Super NES game, it's taken the dude behind Lil Woody's and Alive & Well to finally do the moment justice by turning the former HG Lodge into 95 Slide, jammed w/ memorabilia/flatscreens, and boasting a sweet rooftop lounge, giving it an Upper Deck that's probably Topps in the city.
Foodwise they've got pub fare including sliders, apps (tater tots, chicken wings), and sandwiches like the classic Reuben... Sierra, which -- and this is just speculation -- is probably very juice-y. There's also sports-themed imbibables like the Edgarita, and the sweet tea vodka/lemonade John Daly, though it would perhaps be more accurate if it were the John "seventeen times" Daly.
Additional awesomeness includes a dozen draft brews, entrees like a grilled bratwurst plate called the Big Unit, and a few reserve-able booths with their own TVs, so you can change the channel if you Fleer the Mariners won't come out on Topps. Donruss!