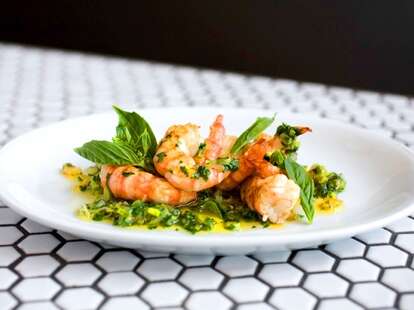 Books occasionally inspire great things: Upton Sinclair's The Jungle brought about important labor reforms in the 1930s, and in the '60s To Kill A Mockingbird shed light on the need for increased songbird depredation racial equality. For a Boot-food/drink spot inspired by a vintage cookbook, hit Artusi, planing to open today.
Opened by the peeps behind next-door Spinasse, and connected via ramp to the pasta destination, this contemporary 50-seater features a white tile-topped U-shaped bar fronted with burned blonde & black presswood, handmade paper lanterns and a series of plywood murals painted by the chef, plus a nine-seat dining counter, behind which they're prepping lighter Italian fare inspired by a famed 19thC cookbook by Pellegrino Artusi called Science in the Kitchen. The aperitivo-ish cocktails include the Martin Miller's gin/ Amaro Montenegro/ black currant vinegar/ cassis Miller's Crossing; the gin/ vodka/ Cocchi Americano/ orange bitters Bambi Warhol; and the unaged rye/ Punt e Mes/ maraschino/ grapefruit Pink Hook, though her version of the infamous one-armed pirate was a little Missundaztood. Comestibles means Pan-Italian snackery ranging from cured trout w/ pickled turnip condiment, to squab in saor w/ valpolicella, cipollini leaves & currants, and dolcetto/ garlic/ breadcrumb'd clams sourced from Lopez Island, where Mario, despite all that waterfront, insists everyone live on the Bayside.
To encourage the mixing and matching of imbib-/ingest-ables, eats are priced between $6 and $13 a plate, and their beers and wines are served in pours that're "smaller and more affordable", which is also the reason they hired children to be chimney-sweepers, before Sinclair went and ruined that.