Put on your drinking shoes. And hat. And pants.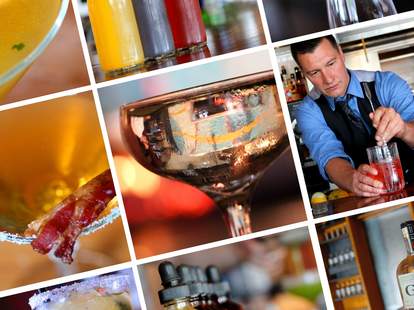 If you like cocktail(s) even more than really slutty hens, you need to crow to all your friends about the NW Distillery and Cocktail Festival kicking off Wednesday. The two-day event will feature a plethora of events (assuming plethora means "sh*t ton") including:
Workshops like "Developing a Craft Bar Tasting Program", "The Art and Science of Hand-Making Cocktail Ingredients", and "The Art of Distilling" as demonstrated by Ben Capdevielle of Captive Spirits, who presumably have ghosts locked in their basement do all the annoying stuff.
A spirit-tasting schedule of craft vodkas, gins, whiskeys, infusions & liqueurs, and rums that starts at 11:45a and runs 'til 5p, or until you can't physically run/walk.
A cocktail competition where you get to taste mixologist-made drinks from the likes of Sambar, Liberty, Barrio, Local 360, etc., then exercise your democratic right to vote for the one that corresponds best to your cultural, political, and socio-economic leanings.
The biggest "Grand Tasting" in the history of all the histories, with small bites, live music, and, like, infinity drinky-thingies from so many different spots, the only way you're not hitting this thing up is if you're a cock.