The low-down on Loudoun's spirits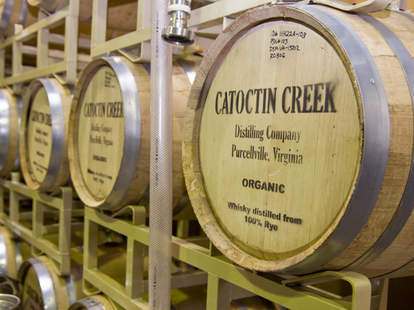 Quick -- what are you doing next Sunday? Ok, that pause was long enough to indicate you have no set plans, so basically now you have to go on the Lincoln's field trip to Catoctin Creek Distillery unless you want things to get super awkward. They'll bus you out there for a whiskey-fueled trip, during which their exec chef'll stuff you with everything from grilled rainbow trout to "drunken flank steak", which's fairly redundant given the setting
What is Catoctin Creek Distillery, you ask? Well, it's Purceville, VA's fledging operation that's basically unpronounceable even before you start drinking their small batch whiskey, gin, brandy, and liqueurs.
The husband & wife team behind it have chemical engineering & IT backgrounds, so the facility's got a bunch of high-tech features, but for drankin' purposes, the most important is a custom-made distillation column, which adds "aroma and flavor" to creations like Watershed Gin (w/ subtle citrus and cinnamon notes), 1757 Virginia Brandy (made with local VA grapes), and Mosby's Spirit white whiskey, otherwise known as "gentleman's moonshine", so remember to hold the door for ladies after doing body shots off of their navels. 30-minute tours run every day starting at 11a or 12p, and'll take you through the entire spirit-production process (previously only explained in Bring It On), from fermentation, to distillation, to aging and bottling, all complete with insider insights like why unhammered copper guarantees the high quality and the most aromatic distillates, and other stuff you might actually remember
Those regular tours are just $5, by the way, and include three pours of their best stuff, after which you'll ask "what's it going to take to get some more Cactocin Creek Distillery spirits?"
Photos by Sarah Hauser