Spend Tuesday looking at constantly refreshing electoral maps while getting also-refreshing margs & fireflies for $5. The 'tails are buy one/get one free if you're wearing an "I Voted" sticker, and every time the results for a swing state are announced, it's half off on its respective signature drink, like gin/Viognier/simple syrup/lemon peel "Cardinal Cooler" for Virginia.
Recommended Video
The Mexican-Style Grasshopper Tacos You Have to Try When You're in South Beach
Previous Venue
Next Venue
Venue Description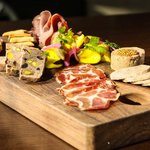 1. Art and Soul
415 New Jersey Ave NW, Washington, DC 20001
Art and Soul's complete interior redesign includes herringbone wood flooring among other rustic-ness designed to foster a "contemporary urban market feel". High quality ingredients meet comfort food for delicious dishes like Confit Pork Belly & Pig Head Ravioli and a Fried Free Range Chicken for two.