The world's first non-boring opera!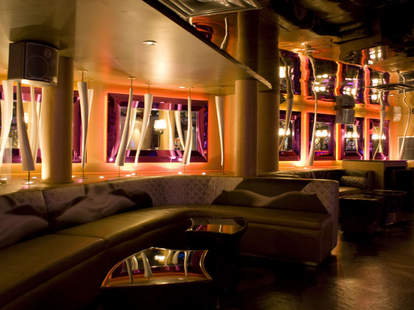 You generally have to go abroad for a world-class clubbing experience, like Ibiza, or as of a couple weeks ago, London. Now putting DC on the map: Opera Ultra Lounge.
Armed with a "world-renowned" lighting and sound system, Opera's a subterranean, Blade-bloodbath-worthy oontz-room with a tier of mirrors, silkscreen banquettes, and tables bordering a specially ordered vinyl dance floor that had to be "laser-cut", as Turbo is apparently not trustworthy enough to be given scissors. Because there's really no better use for electronics, they've got a reservation computer system that'll remember which bottle service and waitress you prefer for your next table, plus wall-to-ceiling LEDs that can display video, and a 30000-watt Funktion One sound system that's been internationally lauded and when first tested, actually shattered bottles, so good thing they've got that computer cataloging thing. Speciality cocktails get fittingly operatic with The Beethoven (12yr-old Zaya & Carpano Antica), The Cavalli (vodka, Domaine de Canton & fresh lemon), and a bourbon/ Thatcher's organic apple/ spiced ginger liqueur drink called The Curtain Call -- though enjoy too many, and you may end up the one making a fat lady sing.
Lest you be forgotten by the club's computer system, they've got over 70 bottles ranging from $200 to 2K, not to be confused with the UK, where they exclusively deal in pounds...levied upon people's bodies.