Is Tropicalia A) a new dance spot on U Street, B) an avant-garde cultural movement that arose in late 1960s Brazil, or C) both of the above? If you answered "C", both your knowledge of sociology and skill at multiple choice questions suggests you went to an excellent liberal arts college... so why not treat yourself to a drink at Tropicalia!? From a crew who've worked in DC nightlife for two decades, this underground, international "dance club for grownups" is tucked into a 14th & U corner, and -- starting soon -- will feature bands & DJs (with a Rio Funk/ AfroHouse lean) reverberating off three huge, surrealist art installations, and a glass mosaic bar. Your glass, meanwhile, can be filled with six sig 'tails, like the Lambada w/ coconut cream, spiced rum & maraschino, a house caipirinha w/ fresh lime, cachaca, and ginger beer, and an interesting pairing of cachaca and sake in the Rising Sun, which you absolutely won't see after drinking a couple. And because, as you'll soon learn, dancing to Rio Funk/ AfroHouse is easier when holding a beer, they've got nine worldly bottles up for grabs too, like Palma Louca, Xingu, and Bohemia, all of which ought to help you loosen up and act less awkwardly, as again, you went to an excellent liberal arts college.
Recommended Video
Conquer Seasonal Affective Disorder With This Dark as Night Rum Cocktail
Previous Venue
Next Venue
Venue Description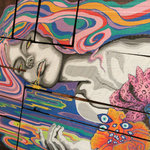 1. Tropicalia
2001 14th St NW, Washington, DC 20009
With more than 20 years of experience working in DC nightlife, the crew behind Tropicalia are certainly no rookies. This underground, international "dance club for grown-ups" is tucked away and features live bands & DJs with an AfroHouse leaning, ensuring huge beats will be reverberating off the three huge surrealist art installations they've had put in.