A Beacon of warm-weather boozing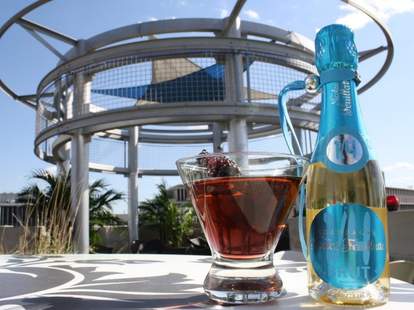 Because re-doing the basement really wouldn't impress anyone but their Gimp, the Beacon's just unveiled a completely revamped roofdeck instead. Meet the new Sky Bar, which sports "black and white trellis patterns and gleaming steel" along an interior leading to out to a terrace now boasting a dual-bar'd covered section, and a lush, vegetation-filled deck with couches and lounge chairs seated atop green AstroTurf -- a setting so idyllic, you won't even need grass. The fresh spring menu provides sky-high comfort via the likes of cheddar cheese mini burgers w/ homemade kettle chips, a crispy Southwest chicken spring roll lathered with avocado crema, and housemade falafel using chickpea fritters they describe as "laced with fenugreek", so ironically, herbs will be too nervous to try it. To calm your fear of heights, there's also a slew of all new cocktails like the vodka/ sour mix/ pineapple juice/ jalapeno pepper sauce "Alejandro" and the cherry-infused bourbon/ cranberry/ Sprite "Cherry Fizz", plus six beers like Troegs Sunshine pilsner and Abita Turbo Dog, which is a terrible thing to do to a turbo dog -- somebody call PETA immediately.
And for those preferring to pop (adorably tiny) bottles, they've also got mini-sized Champagne vessels that come with built-in wrist ties, which if they were borrowed from the basement, means the Gimp is terrifyingly free.