The upscale southerner's just unleashed a new bar bite & cocktail menu available during HH Mon-Fri (5-7p), and featuring drinks made with nostalgia-inducing sodas like Cheerwine, Frostie Root Beer, and RC Cola, plus small plates like pickled trotters w/ warm bacon potato salad, and deviled crab w/ "vegetable chow chow", so it's only appropriate that you doggedly scarf that stuff down.
Previous Venue
Next Venue
Venue Description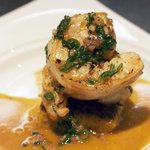 1. Vidalia
1990 M St NW, Washington, DC 20036 (Downtown)
This upscale Southerner's helmed by James Beard Award-winner Jeffrey Buben, who is dressing up Southern cuisine with his famous shrimp and grits and re-imagined dishes like chicken-fried veal sweetbreads, which sit atop a waffle with bacon fondue and a lemon caper veal jus.