The Mighty Pint boys get all Celtic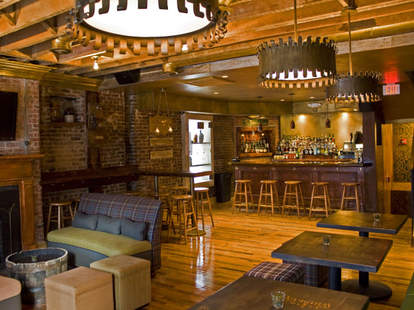 "Irish pub" doesn't always lead you to think "nice", or "spacious", or "anything, due to being in a deep, whiskey-induced slumber", but no longer, with Irish Whiskey Public House, a three-story Emerald Isle jewel that's somehow spiffy and pubby at the same time thanks to gleamingly polished whiskey barrels, modernly artful light fixtures hanging from pulleys, and even some of Chris Cooley's pottery (apparently dude's a little Gaylic).
In addition to over 50 brands of brown Irish nectar, they've got 14 drafts (Smithwick's/ Magners/ Harp), and a whiskey-heavy list of cocktails like the "Mike And The Hammer" (10yr, apricot, lemon, ginger beer), and the 10yr/ St. Germain/Lillet Blanc/Campari "Big Mick" -- take a couple down, and you'll certainly think you've got the moves like Jagger.
Even the food likes to drink, with boozy menu highlights like a Guinness shepherd's pie (w/ beef and Irish cheddar), and a pan-seared filet mignon w/ a Jameson cream sauce, plus the sobering lamb pastitsio finished with a thyme demi-glace and rosemary aioli.
And should you be feeling a bit banged & mashed from the night before, they've got a brunch anchored by corned beef hash w/ country Irish gravy and poached eggs, which prove that even while you're in a deep whiskey sleep, something's getting laid.