Atypically for an Asian fusion resto, the bamboo-floored Scion actually has "a great craft beer selection" (as well as no lack of confidence!), letting you wash down braised veal and gorgonzola ravioli or a brandy maple apple cider pork chop with drafts like North Coast's Belgian golden ale PranQster, B-town's own Pratt Street Oliver Strongman, and a He'Brew Belgian called Rejewvenator, which sounds like a B horror flick where the monster lulls his victim into a false sense of security with pithy observational humor.
Recommended Video
Thrillist Sips: Boro Brew
Previous Venue
Next Venue
Venue Description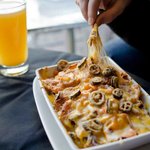 1. Scion
2100 P Street nw, Washington, dc, DC 20037
Located in Dupont Circle, Scion serves up American comfort food with a sophisticated edge all day long. Expect fancy salads, sandwiches, and entrées that are a touch more elevated than what you grew up on -- mac & cheese with lobster and bacon, duck-filled ravioli, a cheeseburger topped with smoked mozzarella. Scion also has a great craft beer selection and a knockout brunch, especially when nice weather calls for a table outside.