You'll run. You'll jump. You'll swim and play. You can row and go on trips. And the things that'll last forever... will be your dear friendships. No, this isn't Camp Anawanna, it's Club Getaway, the East Coast's premier camp for grown-ups, which for a limited time is knocking $50 off enrollment, and giving you a free bar book for $20 worth of adult beverages.

Nestled on 300 acres of greenery set against a sparking lake, Club Getaway is the ultimate… well getaway, where you can make new friends while waterskiing, rock climbing, or playing a little v-ball, but maybe call it volleyball until you've established your friends. If you prefer sports with malted hops over vertical hops, fear not, because CG gets down with the likes of keg softball, flip cup, and the game of the gods they call "beer pong".

Trapeze your heart out during Aug 12th's Classic Getaway Weekend, where with like-minded adventurers you can kayak, mountain bike, explore the Appalachian Trail, or even spit your best pick-up line while screaming down a zip line.

Book your Club Getaway weekend today, then be ready to create quality relationships that'll make you wanna... hopefully never part.
Recommended Video
This Pizza Dip Lets You Throw a New Kind of Pizza Party
Previous Venue
Next Venue
Venue Description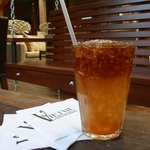 1. Porch Swing Cocktail at Virtue
106 S. Union St., Alexandria, VA 22314
The Old Town newcomer's just added a duo of uniquely indoor, two-seater porch swings looking out of huge windows onto car-lessly charming Wales Alley, and to celebrate, have also whipped up a new Negra Modelo/ dark rum/ pineapple/ tamarind "hoptail", aka the success story producers told James Marsden to get him to sign on to that movie.