Tapping into the art scene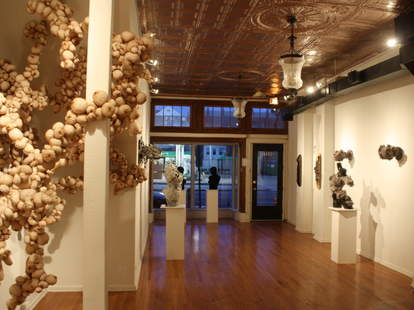 The art world's never been a dry one, from Van Gogh's epic absinthe benders, to that time when Jackson Pollock accidentally spilled his cranberry juice over all those canvasses. For a new spot letting you enjoy art whilst getting similarly loose, check out the Lamont Bishop Gallery.
Just opened and named for the owner's art school mentor, Lamont Bishop aims to p-arty, showcasing "the nation's emerging contemporary artists with budding collectors" in a converted old butcher's shop with an exposed brick front room gallery under the original '20s tin ceiling, and a back room with a lacquered birch bar and custom-crafted rolling DJ booth, because who wants to listen to a DJ who isn't? To get the creative juices flowing, the bar's armed with three taps (one's pouring Batch 19), French Pierre Ferrand Cognac, and cab, merlot, and chardonnay from Cali's Wooden Bottle Wine (actually comes in a wooden bottle); and for members looking to store their own hooch, personal liquor lockers, so you know they're getting slammed. Oh also, there's art there too, with the first, currently running exhibition being UMD-grad Annie Kielman's multimedia multi-dimensional work, which ranges from a black skate deck anchoring elaborately flowing sheets of black foam, to the "Control Top" installation, consisting of coral-like structures sprouting from the walls and made from nylon stockings stuffed with Styrofoam bean bag balls, meaning her playroom must now totally suck for sleepovers.
Up next, they'll be hosting an exhibit called "Exposed: The Polaroid Retrospective II", which'll feature photos from 26 different artists taken on Polaroid cameras -- fitting, as most of those dudes probably had the shakes anyway.