H Street gets a British pub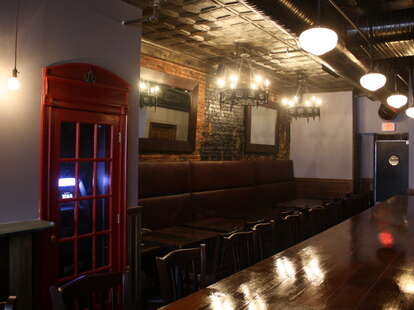 There are tons of TV shows that could be awesomely recreated as bars, though spend enough time at any, and it'll inevitably just seem like As The World Turns. For a British gastropub referencing the BBC's finest, check out The Queen Vic.
Inspired by the same-named fictional pub from an English sitcom called EastEnders which was probably full of awesomely dry humor/gross women, The Vic's upstairs is set off with a Brazilian walnut bar & upcycled tables made from the old rafters (plus a 20-person outdoor patio), while their ground floor rocks large Gothic chandeliers, exposed brick with melted tar from a fire, and a red phone booth with a quiet cell area and ATM, which you'll have to use after hearing your mom refuse to send you money and hang up. The taps number 24 (12 rotating on each floor), and include Anglo-ales like the Bombardier premium English bitter from Wells & Young, Brewery Company's Wee Heavy classic Scottish, and Black Sheep's Holy Grail golden they claim "has been tempered by burning witches", though take it easy, lest find yourself unable to perform hex. Inventive pub cuisine includes a Steak & Ale Pie served to order with mashed potatoes/ onion gravy, a classic beer-battered Fish & Chips with mushy peas/ grilled lemon, and a hearty meal w/ two fried eggs, bacon rashers, and sausage dubbed The Full Monty, presumably because its generous portions mean that you'll never be hungry again, just like after seeing Tom Wilkinson strip.
And for less intense noshing, they've got a "Little Snacks" menu boasting pork rind-ish Salt & Vinegar Scratchlings and grilled bread/sharp cheddar Welsh Rarebit, all of which ought to help balance out beer's tendency to make you bold, and everyone else beautiful.