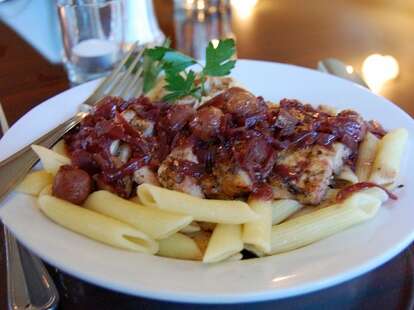 Doing one thing great can give you the confidence to achieve greatness doing something else, the way revolutionizing the computer industry gave Paul Allen the confidence to revolutionize the NBA, by drafting the league's first 158-year-old rookie. From a woman leveraging her confidence into a restaurant, instead of passing on Durant, Tasha's Bistro Cafe.
Opened by a chef who first founded the Rat City Rollergirls, TBC started as a catering company but turned NY-focused-foodery after people kept mistaking the colorfully-restored-space for a resto; now it boasts a brick fireplace'd patio, and a hardwood-floored dining room embellished by old wineglasses decorating the window frames, and walls decked with art from another rollergirl, who you know would totally love a serious endowment, even if it is prosthetic. Meatwise, they've got grilled beef (New York, Top Sirloin, Filet) topped by a selection of sauces (demi-glace, garlic & shallot sauteed shrimp); white meats like a marinated Asian Pork Loin w/ seasoned bok choy; and salad-styles like the fresh mozz/basil/beef steak tomatoes/balsamic reduction Caprese, and Field Greens with your choice of dressing, the importance of which Parents Just Don't Understand. Pasta/seafood ranges from penne w/ herbed white wine Mediterranean broth, to Spicy Caribbean Seafood Stew w/ rice pilaf, to grilled prawns, sauteed scallops or grilled salmon, all of which can be had as a "pasta addition" -- a mathematical operation that combines two things into a larger pant size.
To drink it off, TBC's got macro-brews and mostly west coast wines (Chateau St. Michelle Marier Sauvignon Blanc, Earth Vineyard Pinot Noir), and on weekends a brunch menu that includes griddled grub (Toasted Macadamia Nut Pancakes), and apps like Cinnamon Apple-Walnut Turnovers and fresh breads with seasonal jams, which is about how frequently they come for Greg Oden too.