Muy bueno Mexican street food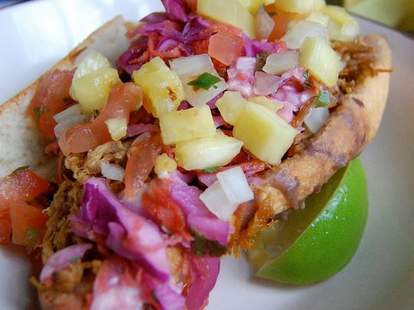 When expanding, it's important to stick to what you know, and if what you know is belly-fillin', then you're definitely expanding. Proving that up with his Mexican empire, the guy behind Barracuda Taqueria.
Just opened in the same building as the owner's also south-of-the-border-themed Bandits Bar, BT extends the theme to grub w/ super-affordable tacos y tortas served up in a crookedly hexagonal wood floored joint fitted w/ a handful of long, cafeteria-style tables & old-school signs, in which Mel Gibson's character is played by Spencer Tracy. The straight from the barrio taco/torta offerings include a caramelized onion/salsa fresca/Oaxacan cheese Chipotle Spiked Brisket, the Carnitas w/ cubed Michoacan style pork topped & queso fresco, the slow roasted pork/pineapple pico Al Pastor, and one made with Lengua that they call a "food secret", but you'll call "a taco I already know has beef tongue in it thanks to Bable Fish". There's also a slew of AM tacos ranging from Desnudos w/ local eggs, to the eggs/sausage Tacos con Chorizo, to custom numbers w/ up to 4 ingredients; meanwhile slurp-able offerings include classic soups like the chicken/tomato Sopa de Lima y Pollo, and Menudo -- a spicy tripe soup known for its ability to cure hangovers, and love of high-waisted super shiny pants.
The BT's menu also features 1/2 or whole marinated roast chickens, and a bunch of Mexican imbibes (Sol, Modelo, Dos Equis), all aimed at helping you stick to what you know, especially if what you know is getting stuck in your chair.