A gauzy Belltown nightspot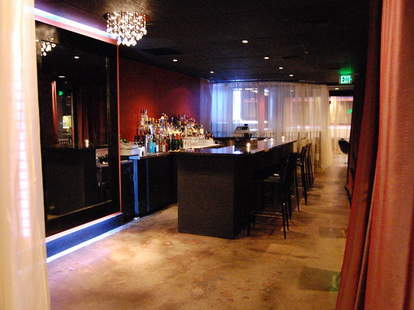 It's always encouraging to see something that was once prominent reborn, unless that something is Kirk Cameron who should've just stuck to hilariously making trouble with Boner. Feel the born again love without redemption, at Blush.
Open this week in the space formerly occupied by all-night 90s destination Minnie's, Blush has re-imagined the former diner space into a moodily lit, gauzily curtain'd 3,741 sq ft (to be exact) drink/small platery, its first-time owner describes as "cozy, sexy" but not cool, because their dishwasher better be down with scrubs. The casually-industrial concrete floored interior's subtly divided into four mirror-and-chandelier heavy sections; a deep red walled main bar/entry, a semi-private back bar w/ low-slung leather couches and bench style-seating, a triangular front lounge surrounded by giant windows to the street on three sides, and a second lounge fitted-out w/ Jetsons' style pod chairs and a raised, romantically enclosed banquette, so no one has to see that it's just you there, cunningly groping your own back. Food is mostly Asian-inspired, and ranges from skewered meats (Grilled Salmon in sesame sauce, Coconut Chicken, oyster Marinated Beef) to a marinated Garlic-Pepper Hanger Steak, to a citrus vinagrette/red pepper Spike Prawn Cocktail -- just eat 'em before He Got Gamey.
Behind the bar, Blush's got the usual drinks and drafts (Pyramid, Mac & Jack's) and an eclecticly solid wine list (Elk Cove Pinot Noir, Neudorf Sauvignon Blanc), with future plans to introduce signature cocktails to pair w/ daily happy hour specials, a combination certain to have you looking Thicke.