A new take on a Belltown tapas joint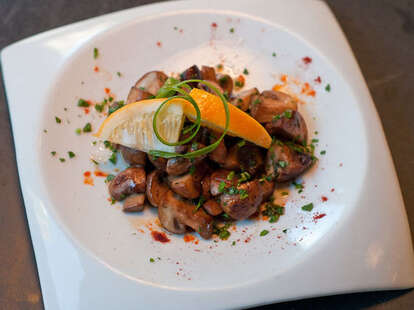 A quality remix can often surpass the original, as demonstrated by Run-DMC's take on "Walk This Way", and Biggie helping provide a sharp increase in players willing to dwell in room 112. Remixing a classic tapas joint, Pinxto.
Opened by Belltown locals in the space vacated by much-loved Txori, Pintxo's keeping most of the narrow, wood-heavy interior the same -- including the high library-style shelving behind the open kitchen/bar -- but is putting its own spin on tapas, with constantly-rotating Basque-style goodness posted everyday on chalk boards, otherwise reserved for promises not to tease Jenny about her head gear, which is admittedly pretty hilarious. The made-with-nothing-older-than-48-hours menu starts with hot items ranging from Tuna Meatballs, to Roasted Mushroom Caps w/ piquillo & red onion relish, to a shaved dark chocolate/crushed popcorn topped Morcilla, aka blood sausage, which you know will always be there for you, unlike that fickle sausage made from strangers. Cold dishes, or "frios", include a pea/green bean "guacamole", and Pan con Tomate y Jamon; plus there's a few larger items like a whole seasonal Stuffed Quail that's semi-boneless, but swears it doesn't usually have that problem, it's just all those drinks, and its really tired, and, you know, "work" and stuff.
Boozewise, there's a selection of Washington and Spanish wines, plus Espana-ish takes on classic 'tails; there's also red wine & vermouth "Singria" loaded with apples, oranges and grapes, but no peaches and cream, you know what I mean? Peaches and Cream.