Class up that drunk-pizza habit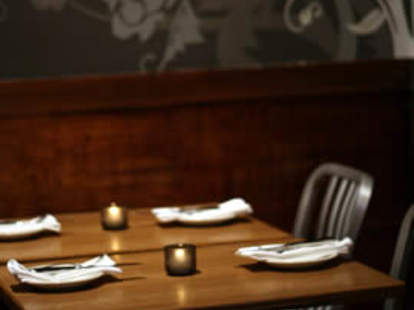 Late-night hankerings are satisfied in ways you'd never go for during daylight -- hunger lands you a greasy slice of cardboard, while libido lands you a date with a Diva who seems kind of tall but hey, you're not intimidated. Class up that late-night pie (pizza), at Beretta
Beretta's a two-story, Old-Country-chic (chandeliers, murals of Italy) pizz-aurant with providentially generous last calls: midnight for the kitchen, 2am for the full bar.
The 'zas are of the classic variety (Tre-Fromage, Prosciutto di Parma, Radicchio), and're abetted by bar bites like bruschette of cannellini beans w/ shaved bottarga, and cardoons w/ "bagna cauda" -- Piedmontese hot sauce, or graduating 4th in your class at SF State.
The glug's superior, with 50 wine bottles under $50, and cocktails from Bourbon & Branch's Thad Vogler, highlighted by the Improved Whiskey Cocktail (Sazerac Rye, bitters, Dubonnet, absinthe, maraschino), and the ginger/lime/mint/rhum-infused Agricole Mule, which you can take to go in a handy colon balloon
If you're rolling with a large after-hours crew, an upstairs 16-top should accommodate, even if your squad's extra-girthy due to hidden sausage you won't discover 'til the sun comes up.