Congrats America: A bunch of states are jumping on the legal cannabis train. But in Canada, cannabis has been legal since 2018, and life is pretty sweet up North if you like getting high.
That's particularly true in Toronto, where dispensaries are popping up like little forest mushrooms after they were declared an essential service during the pandemic. Regulators in Ontario are now granting 30 permits a week (that's a new permit every hour and 20 minutes of the working day!), causing the number of dispensaries in Toronto to balloon from a dozen or so pre-pandemic to nearly 150 today, according to the Ontario Cannabis Store.
When Canada reopens, Toronto is at the top of our travel list—and not just for the legal weed, but not not for the legal weed, ya know? After lockdown, the city is bound to pop—though things "may look a wee bit different," according to Toronto cannabis user Marly Tweedledoob. "I'm looking forward to a post-Covid world when we can gather again, but I don't know if I'll ever go back to passing random joints around with strangers… puff, puff, ash > puff, puff, pass!"
Here's the lowdown on where to buy weed in Toronto, plus our picks for fun things to do and places to eat once you hit the stratosphere.
But first: some ground rules
As long as you're over 19, you can carry an ounce of cannabis (30g) on you. You can smoke in a private residence or in public, but you're not allowed to smoke anywhere that you can't smoke cigarettes—so no hotel rooms, restaurants, right outside of public doorways, etc. Keep it out of your car (unless it's a parked motorhome), and of course, don't drive under the influence.
There are now nearly 150 legal dispensaries in Toronto—a mind-boggling number compared to just a dozen pre-pandemic—which you can locate via the Ontario Cannabis Store. At most stores, you can get everything from flower, pre-rolls, and oils to softgel capsules and edibles, with prices starting from about $7.50 Canadian dollars per gram. Bigger stores will sell the latest cannabis tech like THC drinks and every type of pipe, paper, and bong you can imagine (yes, even ones that don't look like dicks).
The best dispensaries to check out
Different shops have different vibes, ranging from Apple Store to Starbucks to upscale fast-casual restaurants. Just keep an eye out for unauthorized dispensaries, like CAFE, which look virtually the same as legal shops but aren't regulated. Give these Toronto dispensaries a try:
Tokyo Smoke
Owned by Canadian cannabis juggernaut Canopy Growth, Tokyo Smoke has 14 legal dispensaries all over Toronto and Scarborough. Each Tokyo Smoke has a massive selection to choose from, with over 125 strains and tiny sniffing pods (or "scent orbs") so that you can have a whiff before you buy. This is definitely the place to go if you want to try the latest "cannabis 2.0" goodies like drinks and edibles.
The Neighbourhood Joint
This dispensary in The Beaches pays homage to the system of pressurized mail tubes that sat beneath Toronto in the 1930s, and it's Tweedledoob's favorite. "It's family-owned with friendly and knowledgeable staff, including a very good dog who is obsessed with their pneumatic tube system that brings product from their inventory room to the front counter," she says, adding that there's a convenient separate kiosk for click-and-collect orders so you don't have to wait for people who are deciding what they want. "But if you do have to wait, you will be entertained by the pooch and the tube system," Tweedledoob added.
The Hunny Pot Cannabis Co
Founded in West Queen West and built in a former strip club, the Toronto's first legal pot shop has come a long way. There are now 18 Hunny Pot stores across the GTA, including Toronto proper, Hamilton, Mississauga, Brampton, and more. The service tends to be good anywhere you go.
Canvas
Built in a former diner, Toronto's first women-owned dispensary opened in the East End at the end of 2019 (it now also has locations in Liberty Village and Mount Dennis). Inside, this dispensary has a friendly forest-themed vibe with grassy walls that resemble cannabis flower.
Superette
Canada's humble capital, Ottawa, gave birth to the country's prime minister, this journalist, and Superette—"the first dispensary with personality and a unique brand," according to Tweedledoob. "A lot of dispensaries all look and feel the same, but this one provides a fun experience." Superette has locations in Summerhill and downtown on Spadina and Front Street, with more opening soon.
GreenPort
Canada's first Black woman-owned retail cannabis company refuses to ignore the racist history of prohibition. Led by Jamaican-born cannabis activist Vivianne Wilson, this Little Italy dispensary isn't just a solid store—it's a hub that will host community events when lockdowns ease.
Canna Cabana
This Calgary-born shop has been in the works since 2009 and has really ramped it up since legalization, opening locations across Canada. In Toronto's Parliament and Yonge Street locations, Canna Cabana has a fun, tropical-themed vibe and even offers a place to recycle wasteful plastic packaging.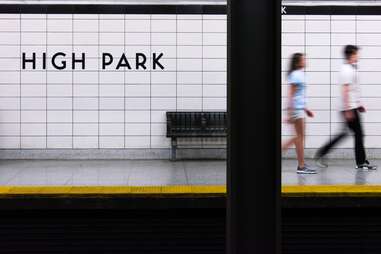 The best places to hang out high
As Canada's largest city and cultural hub, Toronto has more than enough things to do—with the huge added bonus that partaking in public is perfectly legal. World-class arts and culture institutions are peppered throughout downtown, and the city's green spaces are almost occupied by groups of friends passing around a joint. Here are a few key places to hit up while you're high.
High Park
"I'm not just saying this for the name, but one of my favorite places to get high is High Park," says Tweedledoob. "There are endless trails to wander, fields to picnic in, and water to gaze at. They also have an excellent off-leash dog area."
Then there's Trinity Bellwoods, arguably Toronto's hippest park. This 38-acre greenscape gets jam-packed with young'uns enjoying craft beers, tossing frisbees, and toking to their heart's content. The park also hosts movies during the summer.
Toronto Islands
Arguably one of the best day trips from any city, the Toronto Islands are perfect for a chill nature walk along Lake Ontario, featuring a view of the Toronto skyline. Beyond scenic trails through the trees, the Islands are home to an amusement park, frisbee golf baskets, and several beaches, including clothes-optional Hanlan's Point for those inclined.
Art Gallery of Ontario
If you find the AGO's exterior architecture trippy, you'll love its 90,000+ works of art. Exploring the AGO after a smoke session is a quintessential Toronto experience, and staff are well-accustomed to giggles at the exhibits.
Ripley's Aquarium of Canada
Smoking and diving is probably not a good idea. Instead, pick the safe (and really fun!) option and get entranced by the sea life at this massive 135,000-sq-foot aquarium in the heart of downtown Toronto.
R.C. Harris Water Treatment Plant
Tweedledoob brought this one to our attention: She says despite its randomness, it's an amazing spot to sesh. "You get a gorgeous view of the lake and you can bask in the stoner glory of knowing that you are getting high where the prison scenes from Half Baked were shot!" she says. "It's also featured in RoboCop and a handful of other movies."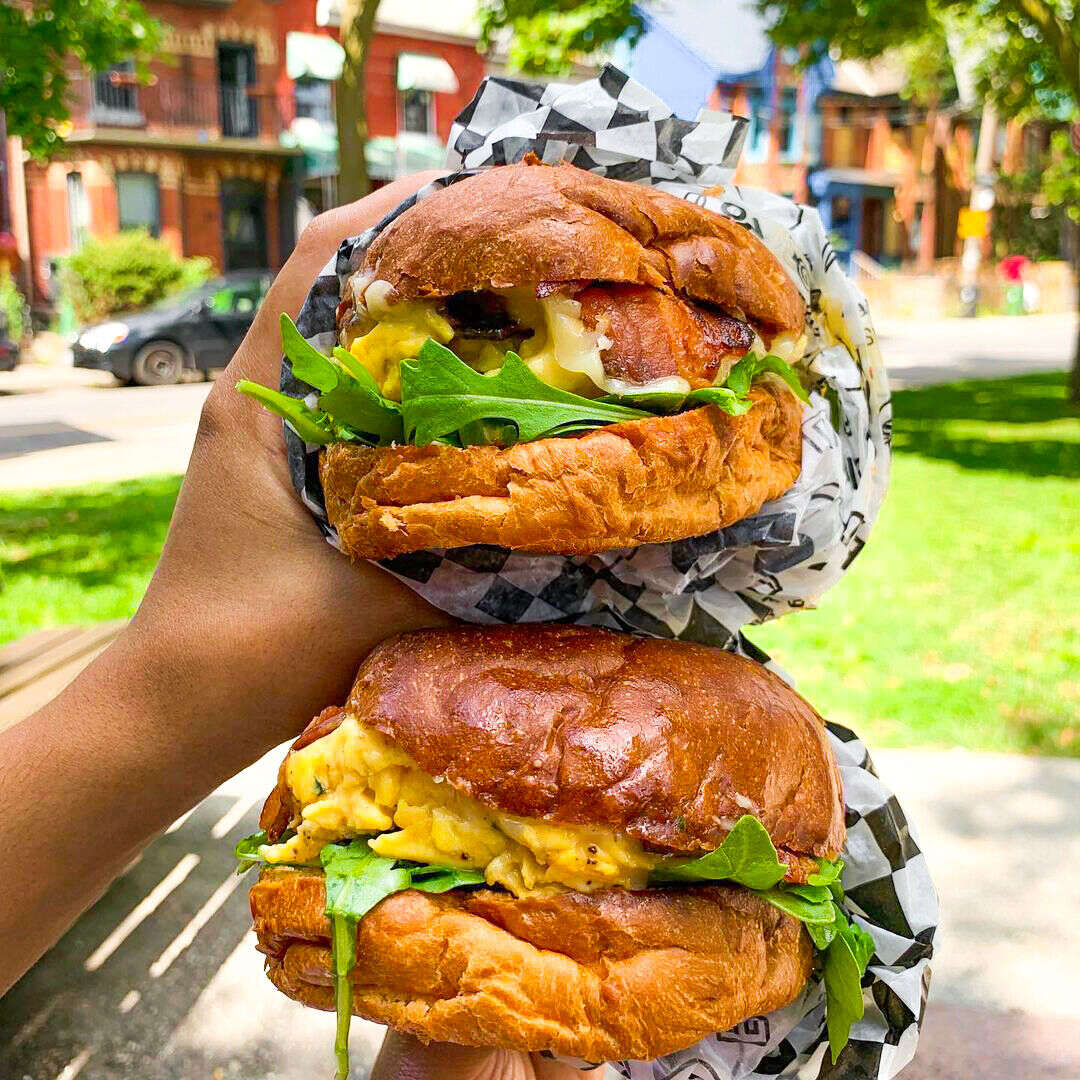 Where to eat after partaking
With more than 200 ethnicities represented across the city, Toronto's home to some seriously delicious, munchies-crushing eats. Here are our top places to satisfy your cravings.
Kensington Market
The ultra-hip, graffiti-covered Kensington Market neighborhood has long been a hub for Toronto's cannabis culture, as well as some sweet thrift shopping. But Tweedledoob loves it because it's perfect for an old fashioned food crawl. "It's fun just to wander around and find something you've never tried before," she says. Her favorite munchie stops are Rasta Pasta, Egg Bae, and Dirty Bird Chicken & Waffles.
Seven Lives
Tacos are found all around Toronto, but few, if any, are as delicious as this Baja-style counter in Kensington Market serving delicious seafood tacos. Expect a big line.
Pilot Coffee Roasters
With locations across the city, Tweedledoob says this popular cafe has all you need to cure the munchies. "My perfect sesh includes coffee and a snack, and there's no better place for both than Pilot Coffee Roasters," she says, adding that it's perfect for the wake and bakers out there. "Their breakfast sandwiches are phenomenal and they have an excellent selection of sweet treats too."
St. Lawrence Market
For more than 200 years, St. Lawrence Market has been Toronto's fresh-food hub, and its 120 vendors give ample options for whatever you're craving, from pierogies to lobster rolls to Montreal bagels.
Bakerbots
Two fresh-baked cookies hugging a giant scoop of artisanal ice cream is about as pure an indulgence as anyone plagued with munchies can hope for.
Bampot Bohemian House of Tea and Board Games
Kick off your shoes and plunk yourself down on a comfy couch for a board game, all the tea you could possibly imagine, and delicious vegetarian snacks, including the three-tier tea platter that comes with cakes, fruit, nuts, and an entire pizza. Their milky homemade chai tea is the stuff of dreams.
Hogtown Smoke
After picking up from The Neighbourhood Joint dispensary, Tweedledoob loves heading to this BBQ place just two minutes down the road. Not for the faint of heart, Hogtown Smoke has huge portions of some of the city's best BBQ, including a deliciously-Canadian pulled pork poutine.
Joel Balsam
is a freelance journalist and travel guidebook writer whose work can be found in National Geographic Travel, Time, The Guardian, Lonely Planet, and Travel + Leisure. Follow him
@joelbalsam
.