ome restaurants have even gone so far as to make ice cream their only dessert option, like Renzo, a souped-up pizzeria and natural wine bar in Charleston (and one of Thrillist's best new restaurants in the country). The dessert menu is simple in focus: There are several scoops of seasonal ice creams such as fruity roasted peach and an earthy pistachio flavor, with several topping options like thin shards of feuilletine and a Nutella magic shell. But there is also a pet nat fizz, which features a scoop of sorbet topped off with sparkling wine, and a spumoni, which is essentially a layer cake made from, you guessed it, ice cream.

Other spots have made ice cream the focus point of the dessert menu with just one or two other options. Take Una Pizzeria Napoletana. There, pastry whiz Fabián von Hauske Valtierra churns out a steady stream of some of the best gelato in the city, served in highly Instagrammable silver-stemmed cups. The ice cream is accompanied by just two other desserts -- a panna cotta and a tiramisu -- even though Valtierra is known for his gorgeous tarts and imaginative desserts at his other two New York City restaurants.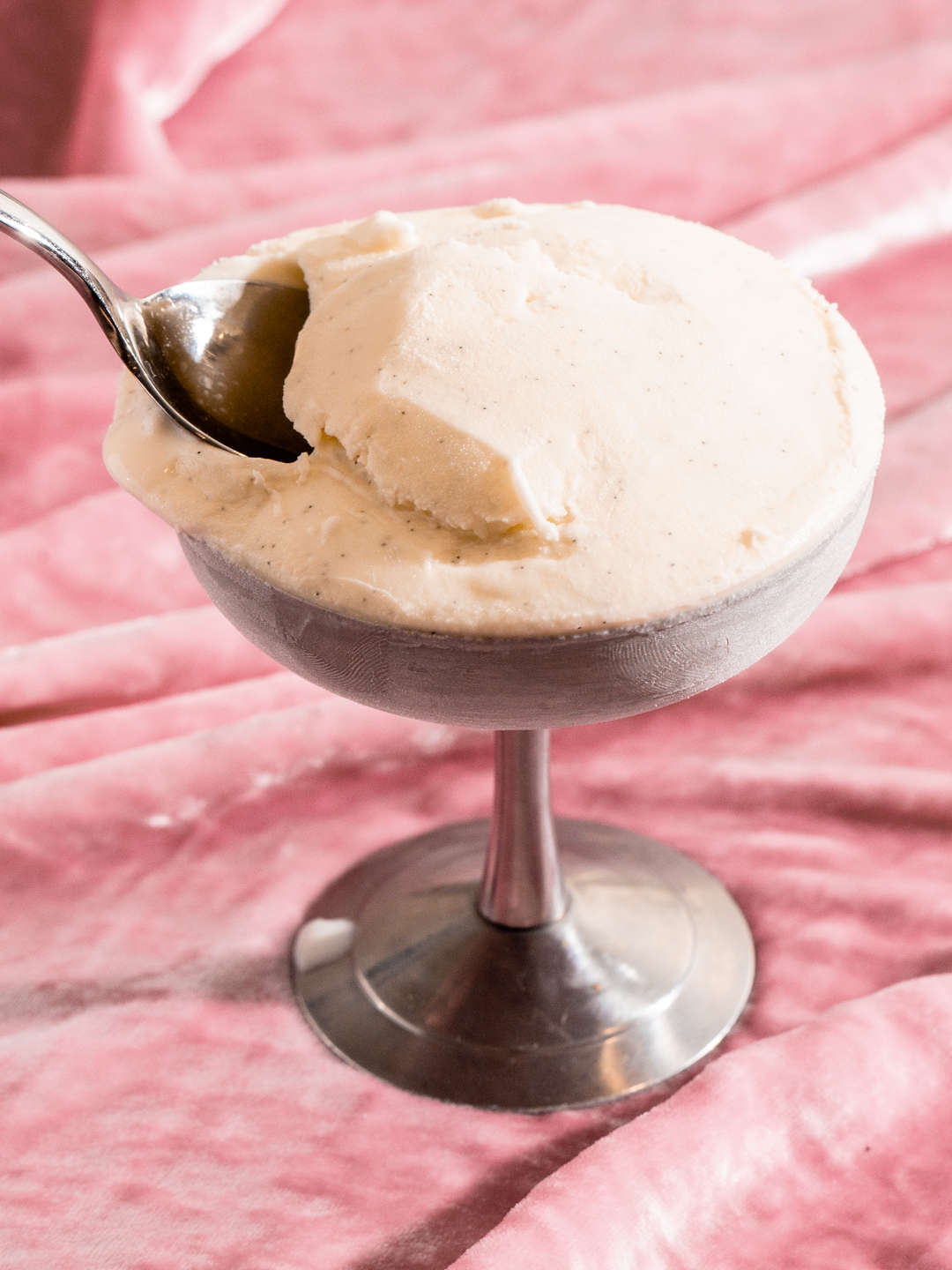 hen there are chefs who are still serving up a wide and varied dessert menu, but are still shining a spotlight on ice cream. The dessert is no longer the supporting actor on the menu and restaurants are putting just as much thought into a single scoop as they do a cake or a pie, coming up with boundary-pushing flavor combinations that go beyond what you'd find at a local Baskin-Robbins.

At Sofreh, a Persian restaurant in Brooklyn, NY (also a Thrillist Best New Restaurant pick), the dessert menu is rounded out with a scoop of ice cream flavored with saffron and rosewater and topped off with pistachios. At Bavel, a hip Middle Eastern restaurant in Los Angeles (and another one of Thrillist's best new restaurants of the year), there are seven desserts on the menu. And of those, three, or nearly half, are ice cream. Scoops of black halva chai ice cream or Persian mulberry ice cream laced with orange blossom white chocolate and the licorice root ice cream bon bon are listed on the dessert menu equitably with the rose clove chocolate doughnuts, and the the roasted fig tart. Chef Genevieve Gergis, the co-owner of Bavel, explains that they naturally put just as much effort into their ice creams as they do their other desserts. "Everything we use is house-made, so of course the ice cream is too."
It's not surprising to see ice cream take off on dessert menus around the country, because of the sheer number of advantages it offers. As restaurants continue to open on tight margins, not every operation can afford a pastry chef. Ice cream is one of the few desserts that is simple enough for a kitchen to turn out on a regular basis. "We're a small restaurant with a small kitchen staff," explains Nayda Freire, the co-owner of Renzo. "A full-time pastry chef was not in the cards... and focusing on ice cream seemed like the best way to [serve dessert] and still have flexibility to change up the offerings regularly."

While laminated doughs and detailed pastries require specialized equipment and enough production space -- making ice cream simply requires an ice cream maker and a freezer. It's a great option for restaurants that have limited kitchen space (that would be most restaurants). Ice cream is also not incredibly expensive to make, and keeping food costs as low as possible is high priority in the restaurant business, according to several chefs who chatted with Thrillist. It allows these restaurants to keep prices low as well. At Che Fico in San Francisco, a scoop of gelato is just $5, while a scoop at Renzo is just $4. Same for the soft serve at Portland's Canard, an all-day spot and (yet another) Thrillist best new restaurant pick. Comparatively, the Paris-Brest is $10, or more than twice the price.
Perhaps the biggest advantage to ice cream, however, is that it is arguably the most versatile dessert. "Flavors can be somewhat untraditional or hyper-seasonal," explains Freire. Flavors can fall anywhere on the spectrum from a clean and classic vanilla to more out-of-the-box flavors like boozy fernet or black truffle. There has never been a better time to be an ice cream lover.
Sign up here for our daily Thrillist email and subscribe here for our YouTube channel to get your fix of the best in food/drink/fun.