From four-pound patties and slow-roasted pig heads, to ostrich fondue and curry-spiced reindeer, there are some meats you just won't find at the Golden Corral -- no matter how many comment cards you leave! So we've rounded up the 12 best restaurants in the world for carnivores. Grab a steak knife and dig in.

The Cannibal -- New York, NY
Gorging yourself on raw meat, chomping on pigs' heads, and sloshing back beers (they have over 450 from around the world) is encouraged at this East side joint (that also sells cycling gear!), where animals eating animals is the norm. Saddle up at the butcher's counter to see nose-to-tail cooking in action, as chefs prep "Cannibal Dogs" with beef heart ragu, tandoori lamb belly, and a slow-roasted pig's head.
While you're there: Pig out on dessert at The Baconery, which serves bacon-infused sweets like chocolate peanut butter bacon cookies, chocolate-covered bacon, and hog maple syrup lollipops.
Osteria Della Bistecca -- Panzano in Chianti, Tuscany
The dangling cow legs and glass meat locker you notice upon entering their downstairs butcher shop will be your first clue that the purveyors of ODB absolutely HATE vegetables. "To beef or not to beef" is the motto here, as your pre-fixe includes five juicy cuts of carne -- which're cooked on an open grill next to your table. Expect impassioned speeches by Dario and his crew as he raises raw rib eye above his head and screams "Freeeeeedoooooommm!!!! to show you just how crazy for steak he is.
While you're there: Tuscany is the land of Sangiovese and the Chianti Classico, so visit some nearby wineries.
Jsix Restaurant and Lounge -- San Diego, CA
Lest any part of the beast be wasted, Chef Christian Graves' famous Fall "Whole Animal Dinners" incorporate everything from the legs to the organs. He's slowly been easing San Diegans into more exotic meats through a daily menu ripe with duck prosciutto, roasted bone marrow, and rigatoni with goat ragout. Visit in the Summer and you can attend their annual Sausage Fest, where local chefs compete to be crowned Sausage King.
While you're there: Forget cooking classes -- learn to cut meat like a pro at the local Heart & Trotter's butcher courses.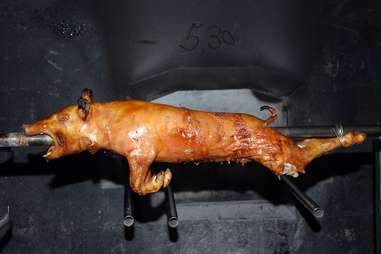 Pedro dos Leites -- Bairrada, Portugal
Bairrada itself is a mecca to meatheads, home to the world's largest kettle ball and Olympic flat bench press the Bairrada suckling pig in all of its tender, meaty, crispy skinned glory. Travelers have been making the sojourn here since the 19th century to pig out on this orgasmic meal (which pairs well with the region's tannic red wines), and visitors can watch Porky slow roast in wood-burning ovens around town every day from 10:15a.
While you're there: Keep your wine buzz going at Quinta do Encontro's wine cellar.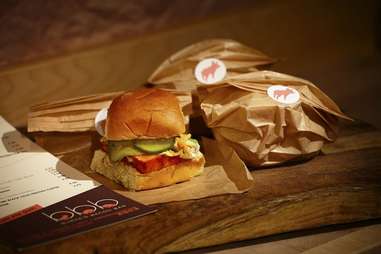 Burke's Bacon Bar -- Chicago, IL
Forget side dishes; at Burke's Bacon Bar this cured creation hogs the spotlight, incorporating locally-sourced pig in a creative selection of "handwiches" (palm-sized sandwiches, natch), soups, and desserts like bacon chocolate chip cookies, bacon peanut brittle, and bacon puffs stuffed with chocolate mousse.
While you're there: Home to the Chopping Block Cooking School, serious carnivores can attend classes on meat, knives, and cooking with wild game.
Grizzly House -- Alberta, Canada
With a menu that's 99% flesh, the Grizzly House wants you to tear into everything from wild game sausage to local rib eye. That said, they're actually famous for their exotic fondues, like ostrich, rattlesnake, buffalo, caribou -- you name the meat, they get the pot of melted cheese ready. Two of their more out-there 'dues are the "Hunter Bourguignonne" (wild boar, buffalo, and venison), and the "Exotic" (shark, bison, 'gator, venison, rattlesnake, ostrich, and, whew, frogs' legs).
While you're there: As you likely need to sweat out the buffalo blood after taking down so much meat, head to the Willow Stream Spa at The Fairmont to relax in their sauna, hot tubs, and mineral pool surrounded by Roman pillars.
StarKing BBQ -- Los Angeles, CA
At Korean restaurant StarKing BBQ, the sophisticated carnivore can indulge in certified Piedmontese beef -- typically a grass-fed, free-range cow that's originally from northern Italy and has been double-muscled to provide tender, sweeter beef. For the full meat-centric experience, roll with either the "Piedmontese Combo" (rib eye, boneless short ribs, and brisket point) or the "Tomahawk Rib Eye Special".
While you're there: Because loving beef doesn't mean you eschew creatures of the sea, visit the seafood market or get a massage in nearby Koreatown. The restaurant's got a walking map they're happy to share.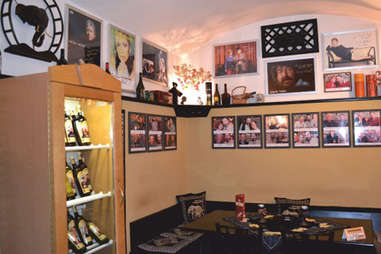 Mount Steak -- Prague, Czech Republic
Boasting the largest selection of exotic steaks in Europe, the cryptically named Mount Steak is a paradise of blood-soaked meat. Their zoological (and booze-infused) lineup ranges from ostrich w/ chili, rum-topped llama guanaco, and wild boar with plum sauce, to blue shark w/ 'shrooms, zebra in a Hennessy sauce, and curry-spiced reindeer.
While you're there: Learn the art of pairing meat with beer (or liquid bread, as the locals like to call it) on a tour of one of Prague's many breweries.
Restaurant R'evolution -- New Orleans, Louisiana
Combine Chef Rick Tramonto's background in steak with Chef John Folse's love of wild game, and you've got a carnivore's dream. The menu's loaded with milk-fed veal chops, duck liver mousse, and an Abinsthe-glazed triptych of fried quail.
While you're there: Get creative with your pairings at Pepper Palace, which sells over 1,000 rubs, jams, salsas, dips, seasonings, and sauces, including the Hottest Sauce in the Universe: The 2nd Dimension -- so hot you need to sign a waiver to try it.
The Carnivore -- Nairobi, Kenya
While most people head to Kenya to photograph exotic animals, you go to eat them -- at The Carnivore, specifically, where they serve a menu of charcoal-roasted meats like ostrich, chicken gizzards, and crocodile.
While you're there: Obviously, you can't eat all of the animals. Perhaps take an afternoon off to see what life's like for them before you get to dinner, on a true Kenyan safari.
Havana Beach Bar & Grill -- Rosemary Beach, FL
Chef Michael Guerra of HBB&G (located inside The Pearl Hotel) loves to cure bacon, and add it to almost every dish he makes. Those craving crispy pork should roll with bacon-infused crab and corn chowder, a sample platter (pictured) highlighted by coffee-cured bacon, and a grilled pork chop served in a bacon and black rum mango sauce. For dessert, the Bacon Peanut Butter Bomb chocolate cake with peanut brittle will explode in your mouth.
While you're there: Meet your meat at the local Choctawatchee River Wildlife Management Area, where you can hunt wild hog and waterfowl.
Rocker@Squaw -- Lake Tahoe, CA
For meatatarians eager to induce an early coronary and/or show off for their dates, Rocker@Squaw slings a four-pound (not fourth of a pound) GNAR Burger topped with pulled pork & chicken, Cheddar, coleslaw, and onions, that's technically grilled for eight. But who's counting?
While you're there: Ride the free shuttle up to the new mid-mountain beer garden at Alpine Meadows Resort for some Bavarian-style sausages paired with a 33oz boot of Sierra Nevada bier.