These Vodkas Make the Best Moscow Mules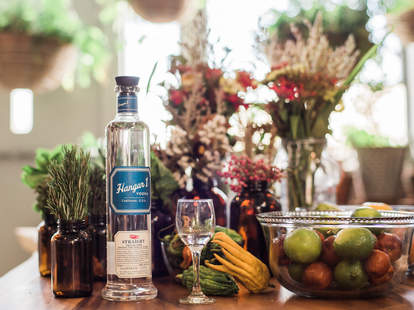 If you're a fan of the gingery Moscow Mule, then you know that its spicy, herbal profile needs a vodka that can stand up to its robust flavors. So if you're looking to up your Mule game with more than just a monogrammed copper mug, look no further. These five vodkas play exceptionally well in a Moscow Mule.
You're probably familiar with Absolut Elyx because of the brand's stunning copper bar tools and handsome bottle. But there's more to this luxury vodka than a pretty face. It's made from single estate-grown winter wheat from Southern Sweden and is distilled in a vintage copper column still from 1921. It's clean and rich on the nose with tasting notes of macadamia nuts and freshly baked bread, which give the spicy Moscow Mule a rounder flavor. Its fresh nutty finish is perfect for drinkers who find the Moscow Mule to be slightly abrasive in flavor and want to tone it down.
While we're slightly skeptical about vodkas that make their number of distillations a major selling point (because no number of distillations can make a crappy product taste good), we're all about Purity and its 34 distillations. The vodka is made from organic Swedish wheat, distilled dozens of times on a copper and gold still, and blended with a mix of deionized water and natural mineral-rich water. The result is a smooth vodka with notes of lime and nougat, which pairs particularly well with the citrusy, gingery flavors in a Moscow Mule.
You can't go wrong with a classic like Stoli. This Russian vodka dates back to the beginning of the 20th century and the brand controls every aspect of production—from the selection of wheat and rye grains, to planting, to distillation and bottling. The crystal clear spirit has mineral and fruit peel aromas with a medium-bodied palate and flavors of frosting and citrus rind. Sweet and citrusy, it works exceptionally well in a Moscow Mule garnished with lots of fresh mint.
Not only does this creamy potato vodka work exceptionally well in a Moscow Mule, but it's also the best deal on this list. Luksusowa has been making vodka from Polish potatoes since 1928, so they have the process down pat. The tubers are fermented and distilled through a single copper column still before being diluted with pure water and bottled at a rate of 7,500 bottles an hour. The velvety texture comes through on the palate with some minerality on the finish, which makes this vodka a great choice for those who like an exceptionally clean Mule.
When the developers of Hangar 1 couldn't find a vodka they liked, they decided to take matters into their own hands. They blend grapes with Midwestern grains to create their balanced straight vodka. It's slightly fruity on the nose, and on the palate it has floral and fruit notes like honeysuckle and Asian pear. If you plan on adding fresh summer berries to your Moscow Mule, this is the vodka to use.