Turntable tutoring -- chicka chicka yeah!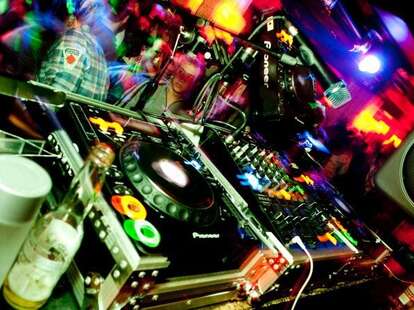 Skillfully selected, your musical preferences can define and enhance an entire night, whether it be your Cinco de Mayo blowout or that wine and cheese tasting, which were both technically parties, and in the USA, so yeah, that worked. Push your jockey skills even further, at Beat Refinery.
Hosting their inaugural sesh May 3rd, Beat's a hands-on, chopping and/or screwing class housed in an all-new, tricked out room in Bethesda's Bach to Rock music school, with a curriculum (loosely based on NY's Scratch DJ Academy) designed by local standout sound selectahs DJ Stylus Chris and the Ibiza-spinning DJ Geometrix, who measures everything in increments of two-doors. The 8-10 student classes run 90-minutes once a week for six weeks, and're taught by up-and-comers DJ Treyz, DJ As-1, and "Pat Jagla" (who's "between names right now"...seriously), who'll use a massive wall projection of their computer screen/ones 'n' twos to school you on your own individual "deck", outfitted with two vinyl turntables, Ortofon needles/slipmats, a laptop, and an advanced Rane 57 mixer, which you'll use to drop epic "make it rane!" jokes, although probably not very good beats. The beginner class will also heavily rely on Serato Scratch DJ software to manipulate digital music, and cover basics like proper gear set-up, basic beat counting/matching, creating mash-ups and multi-track mixes, and an introduction to "DJ Theory" -- an overview of jockeying concepts, not a meeting with a guy named DJ Theory...but wait, dibs on that DJ name!
Though it's all basics for now, advanced future classes will include "Turntablism 202", which'll focus more on old school techniques like using "turntable manipulation" to produce beats via just a needle and record, unlike "parental manipulation", where aged country stars produce income via exploited pop-star daughters.