Genuine bistro-sity in Bethesda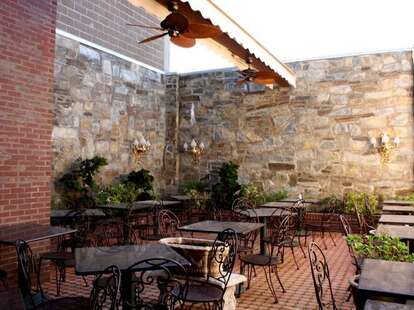 Cherished foreign institutions are oft perverted in the States, like celebrity yoga DVDs, or St. Patrick's Day becoming a holiday about binge drinking, as opposed to a solemn observation about snakelessness. Fighting back against America's overpriced and underwhelming bistros: the Frenchman behind Bistro Provence.
Helmed by a Brittany-born, James Beard Award-winning master looking to bring back the affordability/informality (as well as quality food) of his homeland's bistros, Provence's plating elegantly prepped cuisine from the south of France; it's chandelier'd main dining room and open kitchen're outdone by a 46-seat courtyard cased by high stone walls and a fully retractable awning, so that even on intermittently rainy days, your outdoor dining can go awn, and awn, and awn. The menu's the result of a career's worth of experience (many of the dishes've been created "over 3,000 times"), including salads like a nicoise w/ tuna, egg, and green beans, and apps like small squids w/ wild mushroom/parsley butter, a branzini tartare w/ quail egg, and a crab custard w/ sweet peppers and "mussel juice cream", which Roger Clemens misremembers if he ate, but it is what it is. Entrees are equally franco-licious, with sea-fare like a roast lobster w/ green lentils & spring veggies, and grilled sea scallops w/ porcini risotto, plus meat like a veal chop w/ steamed salsifis & carrot/oregano jus, and a capers/olives/bay leaf'd roast squab -- clearly they didn't listen to the pigeon's pleas, and killed the messenger.
Bistro boozyness comes via a French-only, Burgundy/Bordeaux/Rhone-heavy, ~90-strong wine list -- try it all at once, and you'll perfectly replicate Rip Torn's downward-facing dog.