New Mediterranean spot under old management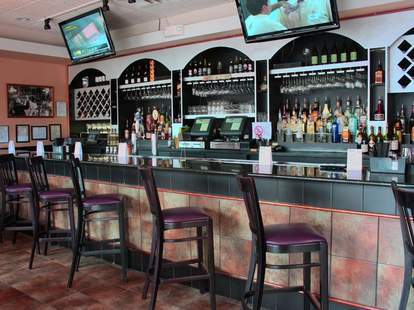 Faithful restoration doesn't mean you can't make any changes, which is why Civil War reenactors aren't flooding proctologist offices with pine-cone toilet-paper injuries. On a less gross note: Almost-faithfully bringing back the restaurant he loves, the guy behind Cafe Prezzo.
Serving up Mediterranean & Middle Eastern in the heart of Bethesda, Prezzo's a wide-open, yellow-walled eatery with a large, soon-to-open patio and exotic-looking black bar with deep-inset, lattice-work shelves and wine racks; the space used to be called Tel Aviv Cafe, which the current owner GM'd, but then became a thumping club, which the current owner definitely did not GM. Now that he's back, he's serving up a more liberally tweaked menu, starting with apps like ahi tuna w/ scallions, tarragon crab-stuffed "Tomate Farcie", seared scallop/Greek yogurt "Coquille Saint Jacques", and the casino/croquette/shoulder "Clams 3 Way", which usually ends with one clam crying and another clam moving into a rental shell. Hearty entrees cover the land (cumin/tomato concasse/smoked pork belly Canard Confit; rosemary jus/pork osso bucco) and sea, with white wine & mussel penne and saffron/garlic crostini Fisherman's Stew, which thanks to Upton Sinclair, will not harbor the remains of Fisherman Stu.
Happy hour sees sub-$5 bites like a half pound of peel & eat shrimp and smoked salmon crostini w/ chive cream cheese, wash down-able by taps from Peroni to Blue Moon -- or a faithful distillation of the dejected beginning of all proctology visits.