These days, almost everyone caters to the MTV generation's short attention span, from Hollywood's frantic editing, to the National Guard's frantic 3 Doors Down recruitment video. Now, not even the restaurant world's sacred, with The Bazaar by José Andrés, soft opening Monday

Semi-partitioned by curtains, Bazaar's a sprawling enclave festooned with ADD-friendly surprises like Viking-horned chairs and LED screens flashing 17th Century paintings transforming into monkeys. Because sitting still for ten minutes totally sucks, your bill follows you around as you enjoy three mini-venues, each with distinct small-plates menus

Bar Centro: Dominated by one huge common table, BC serves an int'l mishmash including "new style sushi", caviar served w/ steamed buns and crème fraîche, and jamón & chorizo tapas. The mixology's molecular, i.e., margs topped with foamy "salt air" and martinis garnished with "spherications" -- thin-skinned balls of olive juice, so one false move turns your martini dirty

Rojo Y Blanca/Patio: Twin dining rooms (one white, the other red) and a patio adorned with African masks serve up tapas both "traditional" (paprika garlic chorizo; goat cheese w/crispy bread) and "modern" (green asparagus and black truffles w/macadamias; seared cantaloupe w/arugula and grapefruit salad; and a Kobe "Philly Cheesesteak" made with "air bread" -- take your Philly friends here, and they'll push your flaky Cali ass in front of a bus). The Patisserie: A Euro-style dessert peddler, with a huge-windowed kitchen plating up homemade candy like taffy w/lime and saffron gum drops wrapped in edible paper, plus more substantial sweets like tres chocolate mousse, yogurt sorbet w/Pop Rocks, and "Nitro Coconut Floating Island" (and you thought Nitro and Malibu didn't get along)

For when even ten stationary minutes becomes a chore, there'll be roving carts serving specials ranging from salmon roe w/cream cheese to foie gras w/corn nuts -- refreshingly crunchy, though even as you finish your first, you're already ready to snap into a Slim Jim.
Recommended Video
This Blackberry Cocktail Is the Best Case for Making Your Own Jam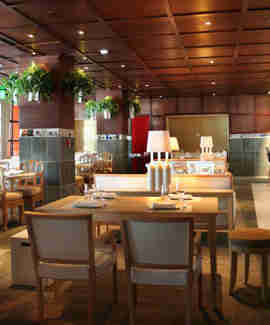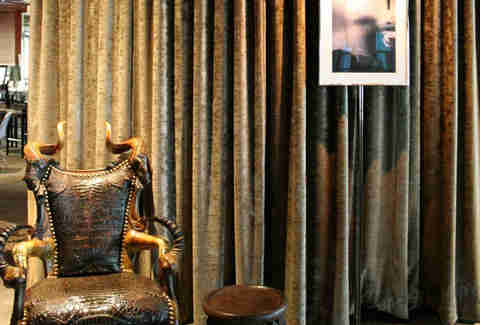 Previous Venue
Next Venue
Venue Description
1. The Bazaar by José Andrés
465 S La Cienega, Los Angeles, CA 90048
The Bazaar by José Andrés delivers a whirlwind series of culinary concepts and fantastically designed spaces, all wrapped into the SLS Hotel at Beverly Hills. A duo of wine bars are the opening act: Rojo embodies the traditional with textbook Spanish tapas (Catalan bruschetta, Iberian ham) while Blanca acts as the playful contemporary sister with avant-garde small plates like foie gras cotton candy. The creativity continues on the mixology-forward menu at Bar Centro, where classics are aggressively reimagined with liquid nitrogen and emulsifications (order a dirty martini and it will be topped with olive brine espuma). There's more still: the bakery branch Patisserie turns its focus to elegant pastries in a fantastical tea house atmosphere, where afternoon high tea is defined by wanton bonbon consumption. Whatever you go for (not that you have to stop at one venue), expect dramatic furnishings and an adult playground experience.