Reunions are ripe opportunities to show everyone how awesome you've become -- after all, if you weren't then how did you get this Ferrari? And these hair plugs? Returning home, the man, Thomas Keller, with Bouchon, open for reservations today. Set to take ressies for its Nov 18 debut, Bouchon's the first LA restaurant from uber-famous, seven Michelin-starred chef Thomas Keller, who was born in SoCal but gained fame in NYC and Napa Valley, where he still airs out his French Laundry. Bouchon's got a bistro vibe similar to the same-named spot in Yountville, with a mosaic floor, zinc bar, antique light fixtures, and a large patio; food runs French, with meat-centric options including duck leg confit w/ Brussels sprouts; red wine braised beef short ribs w/ carmelized Savoy cabbage, glazed sweet carrots, and jus de bœuf; and a potato puree/caramelized apple blood sausage, which is just completely ghoulish to bob for. If fish's more your thing, they're serving up a massive seafood platter, as well as cod brandade w/ tomato confit & fried sage; Maine bouchot mussels w/ white wine, mustard, and saffron; and pan-roasted trout w/ almonds, beurre, and haricot vert, also a move you can do in Tony Hawk if you've managed to snag all the video cassettes. Bouchon's also got a full bar and a bunch of craft beers, as well as a wine program with the unique feature of occasionally inviting SoCal vintners to specially blend a single barrel of vino exclusively for the restaurant, which they'd only do for someone so completely awesome, with a full doll-like head of hair.
Recommended Video
You Will Taste the Cinnamon Sugar Swirls in Every Bite of This French Toast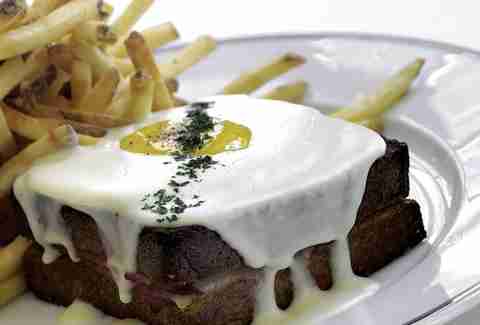 Previous Venue
Next Venue
Venue Description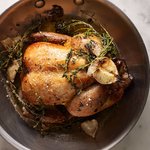 1. Bouchon
235 N Canon, Beverly Hills, CA 90210
Beverly Hills' Bouchon represents all of the culinary excellence you'd expect from Chef Thomas Keller, who has earned seven Michelin stars between the original Bouchon, the internationally celebrated French Laundry, and New York's Per Se. Keller's take on age-old French bistro food is traditional but he employs modern techniques. Each dish is as familiar as an old friend, just dressed a little nicer than you remember him: roast chicken is plated atop carrots and onions on a thin pastry disk in a pool of pan sauce, and each garlic-buttered escargot gets a cute puff pastry hat. Brass fixtures, high ceilings, and mosaic tiles evoking La Belle Epoque complete the effect. Still, some things don't need adornment, like red wine served in carafes and butter-topped steak next to a heaping pile of fries.