Award-winning sandwiches, courtesy of the First State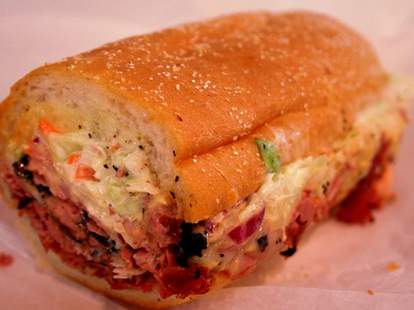 No state sums up American pride like Delaware, what with it's waterfront estates, famous residents of some kind, and, um, whatever else you may expect from such a well-known place! For something Delaware for sure can be proud of, check out sandwiches from Capriotti's.
Opening Monday, Capriotti's is a no-frills, cult-inducing sandwich chain just now opening its first Cali store after starting in Delaware in 1976, and slowly making its way west, all the while shockingly defying death by dysentery/ill timed caulking of the wagon. The brand's trademark is its moist meat, (which is all roasted overnight in-house, along with their proprietorially-made, soft sub rolls), on which you can get warm options like a chicken cheesesteak w/ mushrooms, a "Capastrami" (pastrami/Swiss/Russian dressing/cole slaw), or the roast beef/Provolone/Russian dressing/cole slaw/mayo "SlawBeJoe", order with extra Russian for the SlavBeJoe. Unheated options include a traditional Italian w/ genoa salami, capaiolla, and Proscuittini; and two cranberry-laden options -- the Cran-Slam Club with turkey, ham, lettuce, mayo and cranberries, and "The Bobbie", a Thanksgiving trademark w/ cranberry sauce, stuffing, mayo, and cold turkey, which you're free to try, just be ready for the shakes.
If you abstain from meat/general fulfillment, they've also got veggie options, like an eggplant Parm, soy turkey sub, or the vegetarian cheesesteak, which will undoubtedly become famous, just like the state it comes from. No, not Philly. Delaware, remember?