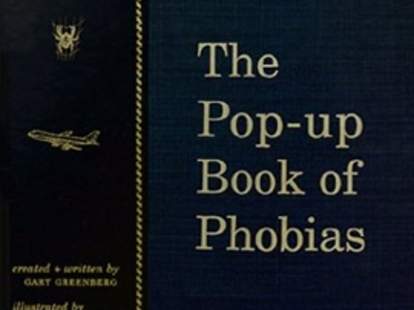 Manly Gear: AlphaThrough Sun at 8625 Melrose; Mid-Wilshire; 310.855.0775 Light jackets, bathing suits, and cardigan sweaters from Loomstate, Trovata, and Hugo Boss are up to 75% off at this all-man boutique; also on sale are accessories like business card holders and novelty items like the Pop Up Book of Phobias -- 'cause nothing says "I'm a Man!" like a popup book that tells you you're scared of flutes. The gear's also online at Alpha-Man.com
Eye Gear: Oliver Peoples, Paul Smith & Mosely Tribes Eyewear Summer Sessions Sat at 3900 Cross Creek Rd; Malibu; 310.456.1333 These designer glasses brands are teaming up to knock over 50% off a slew of frames for both sunglasses and prescription specs; there's also a DJ set from KCRW's Garth Trinidad and free beer and wine all day, in case your vision's not blurry enough as is. All the info's on their Facebook
Everyday Gear:Martin & Osa Clearance SaleThrough July 27th at 10250 Santa Monica Blvd; West LA; 310.785.7924 This upscale American Eagle offshoot's blowing 30% off their whole collection, including button-ups, jeans, and shorts, but sadly no button-up jean shorts because those would be too cool. You can also get the gear online at www.martinandosa.comSchmancy Gear:Bernini's'Til Mid-August at 363 N Beverly Dr; Beverly Hills; 310.278.6287 Take 70% off suits and sportcoats from Brioni, Bernini, Da Venza, and Canali, with esteemed salesman Beroug offering to take "especially good care" of Thrillist readers -- so, ask for him and either end up with a deeper discount, or wake up next to your prized racehorse's head.
Worldly Gear:Lost and Found'Til July 31 at 6314 Yucca St; Hollywood; 323.856.5872 The owner of this boutique travels the country and the world to curate the clothing in her shop; this sale busts 50% off button ups from Maine's Rogue's Gallery, French hoodies from Woolrich, and shirts and pants from B'Sbee that're made out of Australian hemp, which seems crazy because people smoke hemp... to get high!
Ed Hardy Gear:Morrie'sThrough the weekend at 934 Maple Ave; Downtown; 213.623.3083 This designer department store's blowing out their Ed Hardy merch, with 50% off everything from denim to shirts to jackets to hats -- buy it all, and you can finally live out your childhood dream of being a Hardy Boy in The Secret of Smuggler's Back Tattoo.
Boutiquey Gear:LegionThrough next week at 141 1/2 N Larchmont; Hancock Park; 323.871.1900 This small boutique's offering 40% off jackets, coats, and button-ups from a slew of labels including Marc Jacobs, APC, and Engineered Garments, who came up with their name after realizing Made Clothes sounded too obvious. It's all at LegionLA.com