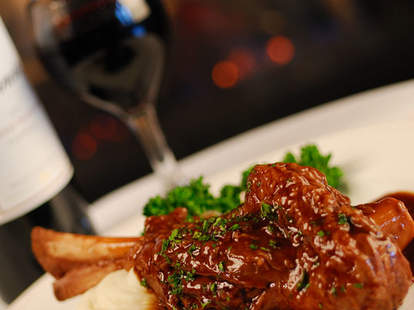 One of the best things about watching the Olympics is unabashedly cheering for your country, chanting U-S-A while waving an American flag and screaming out the national anthem, right before you're sternly asked to leave the Russian Embassy. Channeling that national pride in Brookline, American Craft, opening Monday
Trading southern-style BBQ/Creole for a chance to pay homage to the good 'ole US of A, the owner of Roadhouse has overhauled the space into American Craft, an "artisanal" resto/bar that celebrates the best of American food/beer/wine and serves an extensive menu of hearty upscale comfort vittles plus a heavy dose of small brewery beers in a completely renovated 160-seat Turn-of-the-Century inspired spot featuring red/goldish damask print wallpaper, heavy mahogany tables, vintage black metal chandeliers, and a hand poured bar made've antique bricks, which occurred with an alarming frequency back then, since dudes were shooting underhand. Burly entrees includes a stout-gravy drenched 16oz braised lamb shank w/ ratatouille; oven roasted trout doused in a spelt ragu and sided w/ grilled escarole; and a stout braised short rib plated w/ wilted spinach and whipped potatoes that can hang out for, like, one beer, but then they really, really need to get home. If you prefer to eat with your hands, there's the "craft your own" burger (beef, spice trail turkey, veggie) piled high w/ up to 27 toppings (fresh jalapeño, foie gras butter, sauerkraut) on a Hi-Rise Challah roll; a cranberry-relished open faced slow roasted turkey sammie topped w/ a gravy-soaked sausage stuffing; and an eccentric club sandwich layered w/ fried chicken skins and crispy bacon -- just lose the bread and you won't even have to cheat on your Atkins diet, you responsible eater, you!

If you're just there for the drinking, there're over 40 hard-to-find craft beers on draught (Avery Jubilation, New England Sea Hag, Oskar Blues Old Chub) -- plus a rotating list of 20 bottles that're "rare, vintage, and seasonal" which'll immediately draw the preening admiration of other patrons, assuming your host doesn't stick you in Siberia.