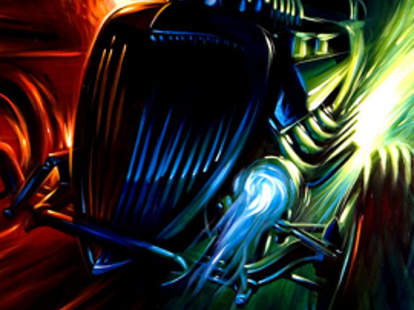 As April showers turn into May flowers, embrace this month's Best of, planted in the diverse soils of our great nation, and (almost) completely weed-free.
Emailed to LA:Wargasser Wargasser's the nom-de-brush of a Long Beach-based, slightly loopy former Mitsubishi/GM/West Coast Choppers designer, who's now dedicated himself to painting/drawing fine art that, for the most part, reflects his borderline-creepy auto-love. Maybe they've got a tribute to your Datsun!
Emailed to SF: Solid Gold Rags Printed on ridiculously soft, semi-sheer burnout blanks, the spring collection from SF-based SGR's all black-on-white imagery, like an old school camera, an ornately engraved Derringer pistol, a racing bicyclist, and a series of variously sized bold-yet-faded circles that'll hopefully distract people from your own bold-yet-pointy circles. Peruse a new summer wardrobe here
Emailed to NY: Good Wood This Bklyn-based e-store will custom carve any design on their signature sanded dark and blonde basswood mewelry, plus they offer a schload of original designs, from AK-47 and Biggie pendants, to boombox and revolver necklaces, to double- and triple-fingered rings arted w/ "love" and "hate" -- just like Radio Raheem would've worn, if he'd done the right bling. "PatMan" would make a great triple-fingered ring!
Emailed to Miami: Bird Club Air Yeezy Tees Miami's Bird Club just released two new ltd-edition shirts that jive with the April release of the Kanye-collabs Air Yeezys, and his team-ups with Louis Vuitton via grey & orange colorways, graphics from the Louis Vuitton repertoire, and slogans like "Louis Vuitton DON", and "Does anybody make real **** anymore?" -- though it doesn't say whether the shirt is quoting Mr. West, or asking him about his recent music. Oooh, does that hurt, Kanye? Is it like acid in your eyeballs? Now you can match the shoes you couldn't get!
Emailed to Nation: We are Hunted Powered by Aussie news aggregator Wotnews, Hunted leverages its parent's 'net-trolling technology to chart -- and let you listen to -- the most popular tunes on the interweb, because natural disasters and epidemics are only as fun as the benefit concerts they inspire. Get all the Eddie Money you can handle here