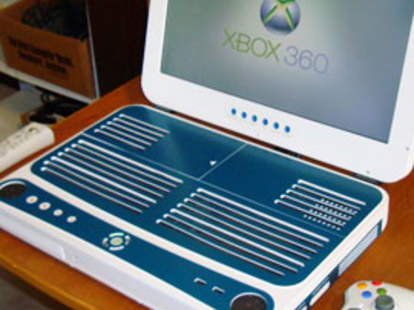 Because you're gross: embrace the low humidity cool emanating from our Best Of.
Emailed to Chicago:Benjamin Heckendorn From a former Wisco graphic artist who found his true calling after hacking an old Atari system into a portable console, BH makes mind-blowing custom modifications to popular video game systems, both modern and retro, yielding slick results that look like something sent from the future, where modified gaming systems have overthrown the humans, yet have trouble dating because they're always playing each other. He's even got YouTube clips of some of his crazy projects
Emailed to Philadelphia: Don't Even Reply A collection of hilarious online volleys, DER's regularly updated with bizarre exchanges between posters of Philly-based 'net classifieds and a PSU student who lures his cybermarks with faux sincerity before baiting-and-switching to punish their audacity to try and sell a truck. Like "Letters from a Nut", the hilarity never ceases
Emailed to Nation: Bullet Pen .375 Made from an authentic .375 H&H mag shell, this lacquered brass pen's under 4" long with the slide cap on (5" when it's placed on the bottom), and is also an official Space Pen, so even as you lie on you back slowly bleeding to death, you can scrawl a warning to others to bring non-pen bullets when hunting ocelots. Writing sucks less when it's with a deadly weapon
Emailed to New York: The Hall of Mascots From the obsessive info-graphers at GOOD mag, the Hall assigns the mascots of the big-four pro leagues to branches on the animal kingdom tree, revealing weirdly fascinating insights like that eight teams are repped by mammals (The Pats' Pat Patriot, the Padres' Swinging Friar, etc), four by fish & dinos (Florida Marlins' Billy, Colorado Rockies' Dinger the Triceratops...), and only one by a mollusk, the Detroit Red Wings' Al the Octopus -- ostensibly because a fish market owner once threw an octopus on the ice for good luck, and it worked, for the hockey team... Ever wonder what you'd get if your two favorite mascots mated?
Emailed to Atlanta: JobTitled Conceived by a GA Tech & GSU-schooled computer science grad, JT gives a free overview of the directions a slew of careers tend to go, as determined by leveraging job boards, blogs, forums, and public databases for resumes, work histories, and other "historical data", still images of which will be slowly zoomed in on by Ken Burns. Why wait for that promotion, figure out your career trajectory right now