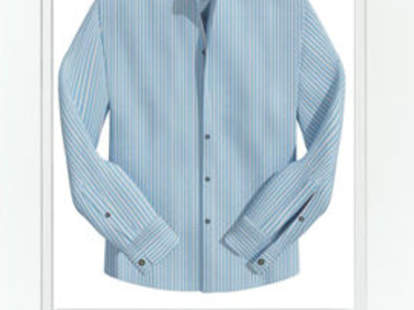 Attending an American university is a dream come true for many foreign-born students, who long for the chance to learn from some of the US's greatest minds, then drop out and do something that you could do from anywhere on the Internet. Reap the sartorial rewards of that mindframe, with Blank Label.
From a Shanghai-born Aussie and junior at Babson College (with aspirations of dropping out to strengthen the biz), BL is a new e-tailor that lets you design your own custom dress shirts (that are then hand tailored in China) at the click of a button for only $45, allowing you to finally say yes to Chet and his hurtful "What'd you make that shirt yourself?" quips. Channel your inner-dude-who-knows-about-shirts, and select one of 15 fabrics/colors (fine white broadcloth, blue/brown poplin, orange/blue stripe Oxford weave, etc) before carefully making seven shirt-altering style decisions like spread or button-down collar, single or double pockets, French cuffs or cuffs that actually enjoy being washed. From there, you can personalize your new bar mitzvah duds with a monogrammed cuff or collar before choosing your size from categories like (S) "Starving Artist", (M) "Even Steven", (L) "Athletic Arnie", and ethnic-based fit categories like "Swedish" (slim), "Italian" (normal), and "American", which is phrased "larger than normal" -- a reference, no doubt, to our larger than normal way of living.
Not only is BL offering a grand opening "every fifth shirt free" sale, but within the next 12 months they hope to open their own production facility in Shanghai, as well as expand the product line, allowing you to design your own canvas shoes, fedoras, and even jeans -- because any foreigner knows that, while the degree may be useful, America runs on denim.