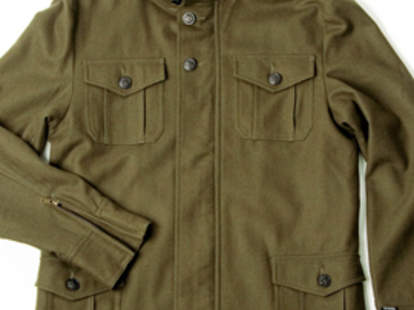 If moving out of your comfort zone was easy then everyone would ju-- wait, what, Mom? Yeah, I know it's my bath time, but I'm not even dirty; seriously, smell my hair! Freeing themselves from the shackles of their own comfort, Brixton.
From a three-buddy collab known for their mod-ish headwear, clean designs, and music/culture-inspired steez, Brixton's mixed it up this fall, dropping their first full original collection of outerwear and apparel, while also tweaking and expanding their signature line of hats -- just like you planned with your own line, but sadly Griff's Jester Hat Emporium never got off the ground floor. Highlights from the shirt side include the blue plaid flannel Bowery w/ two front breast pockets and satin-lined cuffs/yolk; the Barron, a lightweight and tailored black button down inspired by the classic U.S. Navy Petty Officer shirt and equipped w/ anchor buttons and USN Brixton patch; and a cotton vintage three-quarter sleeve baseball henley in heather gray called the Dead Ringer -- also the violent result of you deciding to recruit A-Rod for your softball game in Southie. Brixton's also rocking a collection of jackets like the Sham, a tailor-cut, black twill motorcycle jacket w/ inner breast pocket and diamond-quilt lining; a lightweight traditional Harrington zip-up known as the Edwin; and the military-inspired olive wool blend button down Debaser featuring four front pockets, shoulder epaulets, and a knack for making you feel bad about your eating habits.
Still dancing with the one that brung 'em, they've also got their trademark toppers, unveiling new colors for a number of styles, as well as a longer-brimmed black felt fedora w/ burgundy silk lining known as the Jones, and a brown straw hat called the Delta, which also happens to be your favorite airline because they give you the pilot's wi-- wait, say that again? Yeah, of course I want a juice box!