Everyone loves a nice, petite Italian dish, except for your mom, who feels threatened by her cooking skills. Well get your mom on board at Coppa, opening Monday. Tucked into the spot that once housed Dish, this new rustic-style enoteca from the owner-chef duo behind Toro has matched the resto's size with its portions, serving stuzi (Italian-style tapas), wood fired pizzas, and pastas in a cozy, 38-seat white & gold space replete w/ refinished dark hardwood floors, exposed brick, a southern yellow pine & white tile bar, and benches and tabletops made of wood that's been reclaimed, after they described it perfectly to Mrs. Adams at Wayland Middle School Lost & Found. On the stuzi front, there's grass-fed beef heart crostini topped w/ anchovies and capers; oysters w/ prosecco, sylvetta, and rhubarb; and an Italian tuna belly w/ radish, olives, and lovage, which hippies continue to maintain will always find a way. Entrée-size dishes include the Sicilian Fisherman (tomatoes, Parm, cherry peppers, and fried calamari); Cavatelli di Pollo (chicken sausage, long cooked broccoli, and oregano); and a white clam pizza w/ bacon and Vidalia onion named the Pepe Bianco, who was dumped by Le Pew, because its red eyes/pale skin combo really creeped him out. If antipasta/salumi is more to your liking, there's a salsa-verde doused wood roasted octopus salad; imported and homemade cured meats like duck prosciutto and mortadella; and slow roasted pork ribs w/ fried garlic and rosemary, who your mom only took a liking to in the aftermath of the half hour Minute Rice incident.
Recommended Video
The Restaurant Behind the Grilled Pizza Revolution

Previous Venue
Next Venue
Venue Description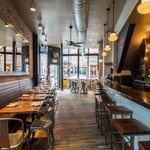 1. Coppa
253 Shawmut Ave, Boston, MA 02118
Coppa is South End's cozy, corner enoteca from James Beard Award-winning Chefs Ken Oringer and Jamie Bissonnette. The neighborhood space is constantly crowded by diners in search of innovative, tapas-style Italian dishes, including house-made pizza and pasta from the wood oven, house-cured charcuterie, and cheese from Formaggio Kitchen. Enjoy a slice of the Sicilian, or indulge in the Bone Marrow pizza with roasted beef heart and horseradish. Opt for the rigatoni bolognese, or try the spaghetti carbonara with sea urchin. Whether you stick with the familiar or step out of the box (with boquerones), a meal at Coppa is an adventure in creative Italian cuisine, assuming you can snag one of the 38 seats.