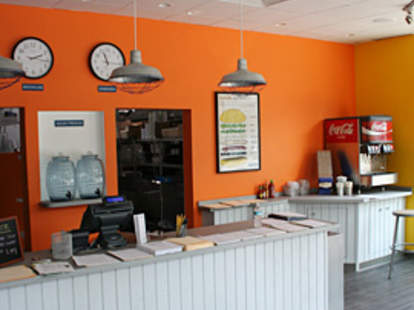 In Boston it doesn't take much to get risky -- like braving Fenway during a Sox-Yankees game, or braving Faneuil Hall when you're not even from Quincy! Toeing the line with Mexican, Dorado Tacos & Cemitas
Three years in the making from the Cali-born former chef of JP's Café D, this Coolidge Corner taqueria boldly casts aside the ubiquitous burrito to serve up an eclectic selection of fish/traditional tacos, unique-to-Boston Mexican sandwiches (cemitas), and rotisserie chicken in a humble 19-seat space with brightly painted orange/blue/yellow walls, metal stools, a colorful chalkboard menu, and a giant framed cartoon poster that diagrams the anatomy of a cemita (aka: the 'Vitruvian Sam'). Specialty tacos from the sea include the Ensenada, a Baja crema/lime drizzled fried Atlantic whitefish w/ green cabbage, pico de gallo, and pickled onions; the Grilled Mahi Mahi covered in a tomatillo avocado salsa; and the Asiático, Panko-fried whitefish under a ginger/Napa cabbage salad, daikon radish, and cilantro, slathered in a spicy dynamite crema that, if you're not careful, will blow up like you knew Harry Potter would, when you read it wayyy before everyone else. D-rad also grills up other signature tacos like the house-made Chorizo w/ guacamole and pico, the chipotle-marinated Fried Shrimp topped w/ mango salsa, and the Portabella Mushroom rolled w/ roasted poblano chiles, chayote salsa, and a hard Mexican cotija cheese that was raised as a Sinaloa cartel hit-man before turning the udder cheek to violence.
Moving on to the South-of-the-Border sammies and more, D-rad does cemitas five ways (mushroom, chorizo, steak, chicken, and pork) served on toasted Lebanese-style sesame seed egg rolls w/ black beans, chipotles en adobo, avocado, and Oaxaca cheese, as well as rotisserie chicken roasted in an eight-spice marinade made with cumin, cocoa, citrus, and cinnamon, etc, -- which is yet another big culinary risk considering your old marinade merely involved Shaking then Baking.