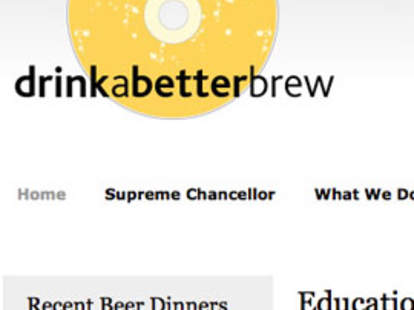 While women're able to hang gatherings on experts coming in to demo everything from Tupperware to dual-action jelly-cocks, men're left to figure out their interests on their own. Leading you by the hand, to beer, Drink a Better Brew.
Captained by a former Dogfish Head sales manager, DABB's a Shrewsbury-based "edutainment" operation that partners with local craft brewers to throw "Private Home Beer Dinners", illuminating the sudsy world beyond ponies of Natty Ice. Round up at least 10 heads, and they'll develop brew-paired tasting menus with local chefs, then lug it all to your pad; you'll consume while they drop knowledge on brewing processes/history of the featured brewery (e.g., Dogfish, Allagash, Avery, Stoudt's), and why, when you're slugging room-temp imperial stout, pewter tankards are a must. Although menus vary according to beers, a past Dogfish dinner included Curried Pumpkin Soup paired w/ Midas Touch Golden Elixir, Crispy Calamari Salad (60 Minute IPA), Venison Osso Bucco with Porcini Risotto (Indian Brown Ale), and a Chocolate Banana Layer Cake w/ the rich, roasty World Wide Stout -- and at 372 calories per glass, that's exactly what you'll become.
If you don't have nine Facebook friends, DABB occasionally runs "Eclectic Gatherings", also combining food, beer, and education, but with the larger scaling of a local bar or restaurant, providing you solid footing to get out of the house before someone shows up with a rolling bag of Grrl Toyz Dual Silicon Finger Massagers.